All businesses that have a distribution operation or warehousing function could benefit from an integrated enterprise resource planning (ERP) solution, which helps to both digitalise and streamline processes for increased productivity.
An ERP system allows distributors to organise products, and offers access to real-time information, ensuring that you can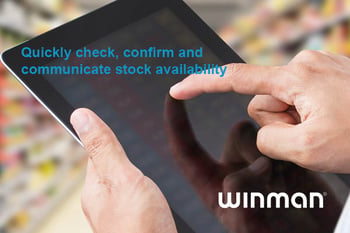 more efficiently navigate complex supply chains.

You might be wondering, however, what exactly does this mean? And how can an ERP software help your warehouse facilities? Read on to find out the THREE key areas in which a distribution operation can move forward and accelerate growth with an ERP solution.



ONE

- Customer relationship management
An ERP helps you to greatly improve your warehouse's customer relationship management (CRM) system. It stores all customer information as well as questions and queries that have come in, current orders, previous order history, and any interactions. This allows for more transparent business practices. For example, you can put projects and documents against a customer so that multiple orders can be shipped together to save time and money.

CRM also allows you to store sales prospects details so you can build your pipeline for targeted sales: calls and promotional offers to maximise profits. Having all of this information in one place ensures that your interactions with customers are optimised so that customer satisfaction is championed.

What's more, having this as part of an integrated solution means that everyone within your company, no matter the department, can see all of the relevant, up-to-date details in one place, increasing efficiency. The value of CRM embedded in an ERP system means that you can manage the end-to-end process from orders in, production, or if you only buy and sell, strategies such as pick and pack stations to speed up the time it takes from order to customer delivery.



TWO

- Warehouse management
Inventory management is fundamental to distributors, the ability to quickly access real-time stock levels is therefore absolutely vital. ERP software allows you to do this and gives you access to tools that enable automated workflows triggering reorder levels, and more, all in one place. When levels are running low, an order can be automatically placed or an alert will be raised to reduce administrative time.

If your warehouse uses barcodes, or would like to implement them, most ERP solutions will allow you to build the scanning of them into your process to make moving stock so much easier and allow you to track their whereabouts away from the warehouse in your ERP system. Set delivery, inspection and dispatch zones, as well as pick-faces so your teams can locate all products with ease across your warehouse. You can monitor inventory both on or off-site, and across multiple locations. Everything can be picked, packed and shipped via the system prompts so you remain fully in control.

Being able to link all departments via one unified system, gives you the power to set alerts at key milestones for customers, which can in turn lead to better levels of customer service.


THREE

- Financial accounting and reporting
ERP software gives you the ability to centralise all of the data mentioned above alongside your most valuable data: the financials. Meaning that you can track every cost right from the beginning of the production line to the end of your process, as you have all of the information you need in one complete system. No more waiting for paperwork to be filed - orders, invoices, shipping, costs and charges are allocated in one place. Make it easier to monitor your profit and loss, as well as managing the daily administration involved in your financial management. ERP can automate simple processes such as raising purchase orders.

You can tailor your system, setting up alerts and triggers to run through digital processes based on real-time information such as shipping updates and receipts of orders. Refunds and returns can be viewed in your system as they happen, making audits and reporting far easier to manage.

Next steps
If you're operating a distribution service it's time to reap the rewards on offer to you with a digital transformation. Implementing an integrated ERP software can unlock countless process optimisations, savings and efficiencies, the top THREE areas explored give you a snapshot into what can be achieved.
Relying on outdated distribution systems? Find out how an ERP system can help you move forward, contact the WinMan team today by calling +44(0) 121 749 8050 and we can help you kick-start the process review you need.
Start assessing your operations now, with the free business review toolkit: