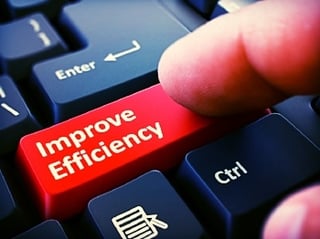 There are a multitude of reasons why systems and processes become unproductive; like outdated documentation causing conflicts and confusion, people who are trained in the same processes using different methodologies or the processes itself has not been fully documented, allowing individuals to make it up as they go along.
Companies evolve over time, priorities change and experienced people leave. This leads to processes being pieced together out of necessity and in isolation from other processes, rather than being properly planned. Often processes are developed without taking into account the effect it may have on other departments. Then there is the human element, as much as we can adapt, innovate and handle new technologies and systems, we can also make mistakes.

To resolve these inefficiencies lean principles and process automation in the workplace can help. Lean aims to optimise the flow of work while producing the least amount of waste. Implementing lean principles can provide companies with a continual amount of efficiency and productivity benefits. To highlight how manufacturing companies can benefit from these principles, here are five different ways administrative tasks can be lean in the workplace:
Automate repetitive tasks
Repetitive tasks waste resources by automating repetitive office processes using ERP software you can reduce the number of errors occurring while increasing productivity. Focus on key processes that affect customer satisfaction levels such as orders processing, complaints handling, sending out invoices and delivery confirmations. Full or partial automation of these manual processes will save time, maintain accuracy and help you provide a consistent level of customer service.
Minimise unnecessary costs
Unnecessary costs can range from unused IT equipment, disparate systems to overstocked components. For example, purchasing can adopt lean principles by using a system that links sales orders, inventory levels and supplier stock availability information together. It can predict required stock levels depending on the number of current orders and even help create a paperless environment as all purchasing activities can be all done electronically. Buyers will be able to make informed decisions to prevent the risk of running out of key components, avoid having an excessive amount of inventory and improve cash flow and profitability.
Improve efficiency
All business processes have an element of inefficiency the trick is to limit these inefficiencies as much as possible. Common office inefficiencies can be data entry errors, over-processing of tasks, authorisation process and downtime. Some not all can be resolved by automation but, the adoption of technology may not lead to a lean environment if you have not properly assessed your processes; for example, having a set process that is 10 steps but, it is possible to complete it in 5 steps.
Empower employees
The best person to develop or improve a process is the person employed to carry it out. By allowing employees to focus on problem-solving rather than blaming current problems on management, you are empowering them to own the problem and come up with a solution that works. This promotes an atmosphere of continuous improvement, which further boosts productivity and efficiency gains.
Continuous improvement
To achieve a lean environment is a continual process because there are always many factors affecting productivity and efficiency. So review administrative processes on a regular basis to ensure productivity is consistent, sometimes it may require just a small adjustment for output to be improved.

ERP software helps monitor the changes made to track efficiencies and highlight inefficiencies. By using business systems like WinMan, operators can gain clear insight into processes and identify opportunities for continuous improvement.