Understanding all your business operations and being aware of each event at a moment's notice is crucial to running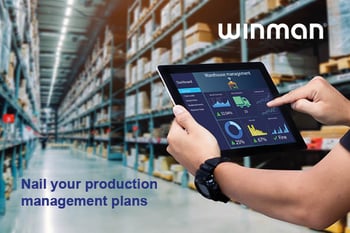 smoothly and successfully. Managerial decisions are only effective if based on accurate reports. Enterprise resource planning software provides an in-depth understanding to enable proper planning and execution. Continued monitoring sustains such an advantage, which begs the question, are you taking full advantage of your ERP tracking capabilities? This article discusses this and further benefits of ERP software.
What is ERP software?
ERP software or enterprise resource planning software increases efficiency in gathering and managing business data from various departments. For example, the manufacturing industry is dynamic, with diverse departments collaborating. Procurement, manufacturing and distribution management are necessary to ensure a smooth operation, minimise waste and increase profitability. Therefore, planning requires the right approach, which is possible when you gather all relevant data and are able to track processes in real time through manufacturing ERP software.
What are some specific benefits?
An ERP system gathers data from all departments and consolidates it into one core database. Therefore, you'll have access to consistent, unique and accurate data, despite the scale and complexity of your business and its operations. Additionally, you'll witness a smoother collaboration between departments as they draw from one source, with full tracking and traceability throughout. This take-off software enables better planning and forecasting, guiding departmental actions from a single source of truth
Improved customer service
Most customer services failures occur because you can't pre-empt those issues, and when faced with a complaint, or query you may not have the solution to hand. Integrating data from all departments reveals when you have enough stock to sell, and the need to reorder or manufacture more, enabling you to schedule favourable delivery times, and offer solutions such as replacements or upgrades promptly.
By tracking progress in support cases, projects, and tasks you can answer questions quickly and efficiently helping improve customer relations with regards to products and services, It's practically impossible to react or pre-empt with such agility without suitable solutions in place.
A robust ERP software includes tracking capabilities suitable for auditing purposes. Since the software logs and tracks all events, financial transactions are easier to recall as the record already exists within the system. Therefore, auditing exercises are easier to conduct, linking all financial transactions to relevant entities. By generating the relevant reports you will have all the information you need instantly.
Reduce costs and track cost savings
ERP software helps your business minimise its overall expenses by increasing efficiency and automating processes. For example, maintaining one solution significantly cuts down IT costs where you previously had multiple separate software systems. Additionally, you can monitor cost savings year on year to determine when you made the most savings and where you incurred the biggest losses. Your ERP software's tracking capabilities guide your present actions to improve your operational efficiency, leading to more cost savings.
Conclusion
ERP software is essential in improving operational efficiency, reducing waste and increasing profitability. Additionally, maintaining a central database that's updated in real-time ensures accurate and consistent decision-making. Furthermore, you'll benefit from its tracking capabilities, ensuring consistent improvement in your business operations. if you haven't already, now is the time to look into flexible and robust ERP solutions from professionals who understand how to help your business implement lean manufacturing processes and consolidate all of your data into one integrated solution. Additionally, if you need to follow up to ensure your existing business systems are performing tracking capabilities satisfactorily.
Get in touch today and let us discuss your specific needs.