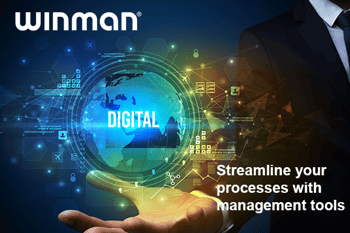 Storing and accessing information in a timely fashion is essential for businesses looking to reduce downtime and boost productivity. However, where a company produces a significant amount of data, it becomes challenging to navigate information.

The beauty of an ERP or enterprise resource planning system is that it is always collecting information for you and because it is integrated into every department everybody has access to the same real-time information.

Read on to learn which areas can benefit from this

Support services


For businesses that offer continued support, being able to store similar support cases together is vital. You can choose whether to categorise based on the nature of the enquiry, product, or service it refers to, filters can help you find the correct case easily.
Storing this information means you have access to previous questions and recommended solutions so that you don't have to go through the whole troubleshooting process from scratch to provide a response.
Having a catalogue of successful customer support cases ensures you can resolve customer calls more quickly and efficiently providing up-to-date advice. With all departments connected everyone has access to the same information reducing the time taken liaising with other team members to understand or resolve the issue.



Product information
ERP systems allow you to combine product data from various suppliers and vendors. Store specifications, drawings, instructions, safety procedures, and other documentation against a product for easy access. Allowing everyone to stay up to date with any product changes or updates, stopping employees from having to search for information especially if the project is time sensitive. Related products can also be linked making it easy for replacements, spares, and kits to be provided or information to be offered as an upselling opportunity.
Quick access to product information is essential for process manufacturers that require production teams to follow stringent safety guidelines when dealing with high-risk items



Employee training


Each employee can have a project against themselves to store all training documentation, log hours of open courses and upload materials for review later also qualifications can be stored for easy access by HR or relevant team leaders



Internal knowledge base


Within the best ERP systems, there is often a knowledge base where any, and all, information can be stored this can be in the form of notes or hyperlinks to relevant sites or supporting information, with descriptions and themes, these can be categorised and filtered
Tasks can be set against the knowledge base items for individuals if it is something you feel they should read, study up on or general monthly updates, it's also a great place to store team meeting minutes and required actions.
Information overload is real - information can easily be lost in chat forums or emails, but having all of your data and valuable information in one place easily searchable and referenceable, will save both time and effort and build peace of mind knowing where to look for answers instead of having to ask every time, this is also beneficial for one's mental health and aids personal growth
If this is an area you would like to learn more about, get in touch today