Business management systems are essential tools that allow you to increase productivity and streamline workflows. For both the manufacturing and distribution sectors specifically, this can incorporate lean manufacturing where output is maximised whilst waste is minimised.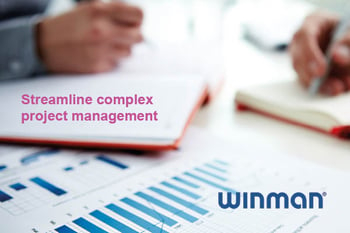 If you're interested in improving business management, read on to find out what business management systems are and how they can benefit your business.


What is a business management system?
A business management system is a selection of tools designed to improve, support, and automate operational processes. These tools, typically embedded in software, allow businesses to save time, money and reduce the number of errors associated with running multiple systems that do not talk to each other.

Why do the manufacturing and distribution sectors need a business management system?
For operations of this type, business management systems encourage clearer reporting, opportunities for improved efficiency and the ability to drive increased productivity. If you're interested in growing your business by generating more profits or making more data-driven decisions, then installing a business management system is the right move.

Let's see how management tools can help your business:



Benefits of using management tools
Customer relationship management


Customer relationship management, or CRM, refers to a combination of technologies and processes that allow you to manage and analyse customer interactions. CRM gives access to customer accounts, enquiries complaints, invoice proposals, and more - so that you can improve your customer experience. Better customer experiences lead to both increased customer retention and sales growth. Businesses that use CRM data are able to understand customer trends, generate campaigns, and analyse pipelines.




Task management
Task management involves the monitoring of tasks from start to finish. It allows manufacturing teams to break down projects into manageable chunks so that your teams can see what actionable steps need to be taken before they reach the end product. Task management also allows you to increase production planning and optimise human resources by delegating work more effectively.




Time management


M

anagement tools allow you to plan, organise, and divide your time better between activities. This is because, by booking on and off each job or task, you can determine how long it takes for each stage to be completed. You can then use this information to understand if all operators take the same amount of time, or to make improvements to processes that take the most time and speed up the creation of customer quotes using accurate timings and historical performance data.




File management


File management allows you to create an organised structure to store information. This could include project information, different document versions, specifications, copies, or recipes for food, pharmaceutical or cosmetics manufacturing. Administering a system that adequately handles this data leads to easy retrieval and follows the approved steps of your processes.




Project progression


This management tool allows you to operate with full transparency by showing how far along into a project you are. Project progressions help determine where delays are occurring so that you can assign more human resources as necessary. It can also help when comparing actual to planned progress, adjusting time schedules, and identifying issues.


Collaboration


Business management systems facilitate a link between all departments involved in the manufacturing or distribution process. For instance, all teams have access to notes, specifications and other documents in a central location – making it easier to remain on the same page.
Business management systems are a great asset to a range of organisations.
Talk to the team to learn more about how WinMan provides manufacturing ERP software that allows you to automate workflows, thereby reducing the amount of data that needs to be re-inputted for each task.
Forecast for the future - projects and people requirements in one software giving you the tools to plan better scheduling and make data-driven decisions.