The unprecedented rise in energy costs has led many businesses to look for ways of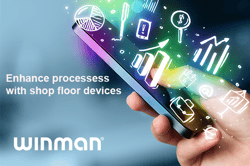 saving money across everything they do. Unfortunately, for many companies, Simply switching to LED lighting or improving cost controls on travel or other expenses isn't enough. Producing the savings required may involve a full process review, there are a number of ways that businesses can do this without reducing the effectiveness of what they do especially if ERP systems are already in place.

Using an Enterprise Resource Planning system, or ERP is a great way of doing this. ERPs can reduce inefficiencies across a business and identify areas where performance can be improved. In many cases, highlighting issues in advance and preventing major problems from arising and providing solutions that can be quickly put in place.
This article will examine some of the areas where ERP systems can reduce costs in a way that may offset some of the impacts that increased energy costs are having.
Identifying and resolving inefficiencies
An ERP system will give you an overview of the whole business and how each process affects the other, helping to see inefficiencies For most manufacturing businesses, machinery is the largest investment that they will make and any moment that machinery is lying idle is a lost opportunity to produce revenue. An ERP system can analyse every part of the production process and identify moments when machines may not be used to their full potential. By making full use of production scheduling, automating manual processes and utilising downtime for repairs and maintenance you will improve overall efficiency and performance.
Reviewing account process
ERP systems can automate invoices or request payments on dispatch, by sending emails and reminders throughout the process the customer is made aware when payments are expected freeing up resources.
Some businesses have had to change their way of billing altogether due to supply chain shortages – with customers expected to pay for materials upfront to guarantee the price and avoid delays, meaning you no longer have to worry about absorbing pay increases or having to pass them on to your customer.
Reducing paper usage
Despite the rise of tablets and other devices, many businesses still prefer to make paper backup copies of key documents on a just in case basis. Unfortunately, this is the type of mindset that tends to spread and with the cost of raw materials surging, this can add up to a significant bill for businesses over time. Using ERP avoids these costs by providing a secure, end-to-end solution where all vital information is stored and easy to access for everyone in every department creating a paperless enviroment.
Shop floor mobile devices linked to your system will also reduce the need for inventory paperwork.


Lowering production costs
As the price of raw materials has skyrocketed, the cost of keeping materials on hand for production has become a burden for many businesses. ERPs can help businesses to review historical data and examine their current stock strategy and reassess where necessary. For high-cost or perishable items reorder points can be set up to automatically reorder when needed. As well as saving money on the cost of the stock, this can allow companies to reduce the amount of warehouse space that is required by their day-to-day operations.

By streamlining and automating processes, reviewing costs, and analyzing historical data you will be able to make a few savings, and hopefully offset some of the increasing future energy costs.
To learn if you are getting the best out of your ERP solution get in touch with us today or download the business review checklist here: