Businesses constantly look for ways to improve performance and increase profitability while reducing waste. One way to realise such gains is by using ERP software. You can optimise your operations further by linking mobile devices
to your ERP system to speed up and enhance your shipping and logistics functions. Discover the benefits you can achieve with shop floor data capture.
Enhance manufacturing processes with shop floor devices
ERP systems bring several advantages to shop floor operations, including: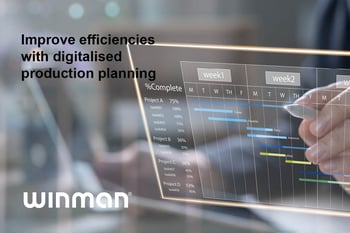 Enabling better planning and decision-making

Improving customer service

Minimising expenses

Making processes efficient

Reducing risks



All of these advantages are available if your business completes a lot of complex or critical processes capturing output and performance data from your shop floor operations. Mobile devices step in as the perfect solution to your data gathering needs if this is the case, helping you to simplify and streamline the process.
Mobile applications can turn portable devices into barcode scanning tools, remove the 'noise' from desktop screens to focus on specific stages or give you the flexibility to collect real-time data such as time taken to complete tasks. As a result, gathering accurate or hard to collect shop floor data becomes as easy as using a tablet or mobile phone.
Furthermore, integrating logistics and shipping tools can give you access to even more benefits:
Faster data collection
Speed is a critical component of accessing ERP software on mobile devices. Normally, manual data entry leaves a gap between data being collected and when it's available in the system. As such, businesses may end up acting on out of date information. In addition, shop floor staff may have to pause their processes to capture manual data or tick off task sheets, which can lead to wasting valuable production time. Such pauses may create the perfect opportunity for distractions that break concentration, which could lead to inaccuracies in the recording process. ERP software on portable devices enables real-time data entry, ensuring speed, accuracy, and efficiency.


Better communication
Since you can achieve real-time data reporting in most ERP systems, each of your departments 'will also be able to reduce the time spent calling each other to clarify details. Every department is able to access the same information, thus easing and improving communication. Better communication leads to better decisions and stronger collaboration. Enhanced levels of communications also feed through into your customer processes, teams are better informed to be able to keep both internal and external stakeholders in the know.


Increased productivity
The efficiency of using apps designed to extend your ERP software coverage leads to minimal time wasted and reduces the potential of inaccuracies that come with manual processes. Freeing up your operations teams so they can focus more clearly on the tasks at hand. Additionally, logging accurately on and off of jobs or process tasks can be recorded and reported on to help increase efficiencies, you can also record orders through eCommerce integration direct to a portable shop floor device to get distribution or production teams working on them as soon as they're received.


Increased logistics accuracy
With improved and predictable productivity, you can better schedule deliveries and estimate arrival times for your customers. With manual data entry, scheduling may have been vague at best, which could have led to customer dissatisfaction. With real-time information available within your ERP system however, it's easier to provide more accurate arrival times in line with your carrier provider's availability. Furthermore, your shop floor can take on larger orders and deliver on time with better logistics.


Better response to changes
Even the most streamlined and predictable operation can encounter glitches that throw it off course. For example, a customer can change their order last minute, or machinery can break down. With real-time data, you can more accurately assess the situation and devise effective solutions, by forward planning maintenance in quieter periods. With a preventative approach combined with a faster response to unexpected challenges, you can get back on course faster and ensure your customers are satisfied.

Efficient data delivery to relevant departments
Each area of your business requires inputs and outputs of data from the various operations it performs. For example, quality assessment and maintenance teams need real-time data from the shop floor to identify areas of concern and develop appropriate solutions.
Maintenance teams who are able to assess the condition of shop floor equipment on an ongoing basis can schedule repairs and identify those service requirements or replacements in advance. Sales teams are often keen to have visibility of stock volumes to ensure product availability at all times. Access to your all-in-one ERP system through portable devices ensures timely and accurate information each department can rely on, on a daily basis.
Expand your data entry touch points to achieve higher levels of accuracy and a plethora of operational benefits. Access your ERP through a range of portable devices and provide real-time data, enhancing shop floor productivity and ensuring better performance both between and across departments.


Now may be the time to take action - invest in your future, and align system features with your business needs – click the button below to download your copy of the WinMan Features Brochure to learn more