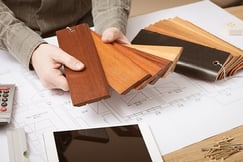 For businesses that take custom manufacturing orders, there is a risk that the complexities and variables of each order can cloud the management process, leading to an operational lag which can cripple a company.
Enterprise Resource Planning (ERP) software, such as that provided by WinMan, can help made to order or custom manufacturers gain a competitive advantage in a mass produced and competitive marketplace. By staying on top of their incoming orders and enjoying benefits to their procurement process, they can control materials and the flow of stock much better.
Material Requirements Planning
Improved 'Material Requirements Planning', also known as MRP, is a major advantage of ERP software for companies that wish to manage their custom manufacturing orders more effectively. Take a custom order furniture manufacturer for example - they have a number of items made to order, meaning their inventory is likely to change on a regular basis, in accordance with which orders they are working on.

This means their flow of 'inputs into outputs' has a large margin for waste, in terms of money and inventory. For these type of businesses, material management is integral to supply chain management as a whole. ERP software can be the key to managing this area of a business effectively, it can fully track all data relating to orders, inventory, human resources to machinery. It can also minimise the level of materials and time inefficiencies by grouping similar orders together or operate Kanban purchasing techniques.
Inventory management
Stock management plays an important part of the manufacturing process and ERP software gives its operators real-time information on availability and location of the required materials. The system allows manufacturers with custom orders to ensure their orders are fulfilled as quickly and efficiently as possible, thanks to its provision of a clear overview of stock.

For businesses that manufacture products in a number of locations, a multi-location inventory is something that can be controlled far more easily with the centralised hub that ERP software provides, moving materials or goods between locations can be fully tracked and traced.

Other activities such as material valuations and costings can all be added to the system allowing accurate profit margin calculations, which is crucial for improving operational efficiency and maximising profit margins.
Order accuracy
With various combinations and variants, custom orders require accuracy and precise bills of materials for every order. Some ERP systems have an integrated 'Product Configurator' where all product components, options, standard features and dependencies like colour and sizes can be uploaded to the system, removing the need for lots of product spreadsheets. It allows manufacturers to create detailed bespoke sales orders and directly transfer it to a bill of materials saving time and reducing the risk of inaccuracies.

ERP software can assist the purchasing of materials - including both costing and scheduling - as well as stores and inventory control. It is capable of automating many of the manual tasks and help create a lean manufacturing environment. ERP software centralises much of the information and many of the activities concerning with production and materials management can all be managed in one place.