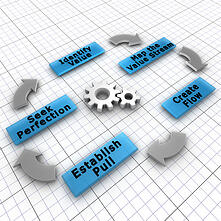 Many managers of manufacturing companies face the challenge of determining whether to employ Lean Manufacturing or Mass Production methods in their processing plants. While most of them prefer lean manufacturing, it is important to consider its benefits and drawbacks in order to make an informed choice.
Introduction to the phenomenon
Lean manufacturing is an approach that seeks to produce tailored products that suit the actual demand from end users. Companies eliminate waste by using less effort and manpower while producing quality items. The idea aims at less manufacturing space, less storage space and fewer tools and equipment.
It deviates from the phenomenon of mass production of goods for storage in warehouses. Since the idea saves costs of storage management and losses incurred when goods do not move, its popularity has greatly grown over years.
PROS
It saves costs
Whether your business or company is small or large, your biggest aim is to manufacture quality products at the least possible cost. You will achieve this with lean manufacturing solutions, such as the WinMan ERP software. You will not only save the space for storage, but also arrive at reduced raw materials.
It saves time
Employing efficient machinery to produce larger amounts of products reduces time spent. Although this can be a demerit to your workers, it is an advantage to your business. With less time required to accomplish the same task, you can dismiss several employees and maintain a lean workforce.
It saves on cost of fuel
Lean manufacturing implies that you will invest in more energy-efficient machines and equipment. In addition, the saved time means you will run your machines for fewer hours than before. This translates to huge savings on fuel and electricity. In addition, eco-friendly machines save you the cost of air conditioning.
Easier monitoring
The implementation of Enterprise Resource Planning solutions such as WinMan ERP software seals all loopholes of wastage. You will monitor your company functions easily. In fact, with mobile integrated solutions, you can do so at the comfort of your car or living room.
Improved customer relationship management
The lean functions of a manufacturing department can positively influence a company's relationship with its customers. Since it ensures your goods are always available, you will establish and maintain a healthy relationship with end users. At the same time, the supply of raw materials is efficiently controlled.
Other advantages of lean manufacturing include:
Less interruptions
Increased sustainability of the business
Pleasant working atmosphere
CONS
Negative perception by staffs
As lean manufacturing emphasises efficient human resource management, your workers may feel frustrated. Since you aim at using less manpower, workers may be against it. More importantly, do not place the burden to cut costs entirely on them. Instead, lead by example. Implement the lean strategy across all departments in your company. For the change to be well effected, it must gain support from everyone affected.
Unbalanced economies
As you implement the strategy, be careful not to go to the extremes. For example, you may import a machine that manufactures double the number of products that you currently make in a day. From the look of it, the machine seems to cut costs of production. However, the finished goods will go to waste if you lack demand for them.
Conclusion
The operations of the lean strategy should be so balanced and reasonable that your company does not become counterproductive. Evidently, the pros for lean manufacturing surpass the cons, making it an ideal approach to modern manufacturing.
Download our guide - 10 Key ERP Principles for a Lean Enviroment (click on the guide to download)