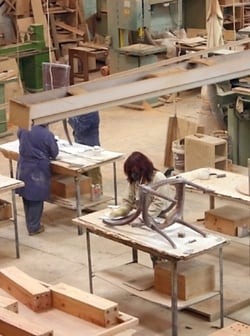 Some of the common challenges of furniture manufacturers include increasing material costs, lack of skilled labour and fragmented channels of distribution. These challenges, plus the continuous changes in the environment mean the need for continuous improvement. Here are some ideas on how to improve your production management.
Improve inventory management
Stock control is a balancing act especially for custom furniture manufacturers, as too much inventory or capital tied into stock can have a large implication on cash flow, plus the need for extensive warehouse space. A good inventory management system will create an alignment between stock levels, production and customer demands, which helps keep production lean as it lowers the risk of product shortages and excessive inventory.
Minimise waste with lean principles
Lean manufacturing techniques are all about minimising waste both tangible and intangible from the production process - it assists with the achievement of quality products while minimising unnecessary costs. To introduce lean you must examine current processes and create a plan with attainable targets in place. As lean is about continuous improvement once a milestone is completed, you will be able to move onto the next; for example, decreasing the amount of material waste by 10% in the next 12 months to improve the efficiency of administrative tasks by 20% in the next 12 months by using automation.
Plan and schedule all production activities
Having the availability of labour, tools, machinery, inventory and outstanding orders on hand is essential to efficient production planning and scheduling. Planners can utilise resources more effectively - like grouping similar furniture orders that require the same components or machinery to be manufactured together. A plan will help bridge the gap between the shop floor, planners and back office which will improve communication, what's more, any bottlenecks, capacity constraints and workloads can be clearly seen.
Process Automation
We all have those tasks that we like to put in the back of the queue due to the repetitive nature of it. The lack of automation between departments can cause communication issues and the increased risk of errors – especially for custom or complex orders. For manufacturers 'Product Configurator' software can be used to link departments together; for example, using a product configurator sales orders can be directly converted to an accurate bill of materials for the production department within the system. The software can also check whether all the required parts are in stock for that order.
Investing in the right technology
Technology can help furniture manufacturers improve production management but, choosing the right solution can be difficult. There are many different solutions on the market; standalone software serves a specific purpose such as CRM, Inventory and Production Management, whereas an integrated system such as ERP software has a range of functionality.
When you start the search for an integrated ERP solution you must start with listing all IT requirements across your organisation in order to take advantage of a cross-departmental system. Although the initial implementation can be costly compared to opting for a standalone system, the right business system can save in the long run. It is important to choose a system that is not just suitable for right now but, suitable for the long term – ask yourself is it flexible and scalable enough to suit your business as it grows?