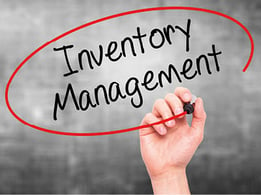 If you are a successful manufacturer or distributor, the chances are that your factory or warehouse sees a lot of comings and goings. For this reason, controlling and enhancing your inventory management can be crucial to streamlined business operations which work for you, rather than against you.
So if your inventory management does need improving, what are the tell tale signs that you need to look out for?
Here, we take a look at eight signs that suggest your inventory management process could be in need of an overhaul:
1. Excess inventory
If your factory or warehouse is full of stock that you have had lying around for a while, you might be suffering from an excess inventory problem. Having older products in storage with no potential to shift them in the near future means you are taking up space that could be used for newer products. There is also a chance of their value decreasing.
2. Slow rate of inventory turnover
If you are not shifting your inventory as quickly as you would like, it could be a problem. A high turnover rate is preferable, as a low rate is a sign of poor sales. Older items may also diminish in value and popularity with consumers, so it may have to be sold for a lower price.
3. Manual inventory management
If you haven't taken the step towards paperless inventory management, you might be losing out when it comes to both accuracy and efficiency. Paperless systems, which often utilise the latest warehouse management software, allow all your employees to keep track of changes within your management system, including tracking orders and shipping.
4. Reliance on safety stock
The usefulness of safety stock is, in many cases, a myth. If you have a company policy of not falling below a certain amount of stock regardless of the circumstances, you could be stockpiling inventory for the sake of it. However, for some companies having safety stock or a buffer can be a benefit but, it needs to be accurately calculated for it to be useful.
5. Lack of usable metrics
If you are not using set metrics with which to track all critical elements of your inventory management operation, there is a fairly big chance there are holes in your inventory and supply chain management. Make use of the software available to you, such as WinMan Enterprise Resource Planning (ERP) software, to keep an eye on metrics such as days' supply by location or product.
6. Absence of inventory tracking
Tracking parts and components in any production process are a sign that all elements of inventory are being traced adequately. Tracking doesn't just have to be about consumer-facing processes such as order status, delivery or complaint log. For manufacturers, it can make the internal production process more organised and lean.
7. Failure to analyse and improve
If you aren't analysing the root causes of why you are carrying obsolete or excess stock, it might be difficult for you to make the necessary improvements to your inventory management system. Again, tools such as ERP software can go a long way to achieving this aim.
8. Not encompassing all parts
From raw material to spare parts and finished products, effective inventory management is often about all parts of the product journey and failure to take account of one element could be a spanner in the works when it comes to being as operationally efficient as you want to be. The parts that come to comprise the finished products cost money and also take up space, so they should be given as much thought as products that are ready to sell.