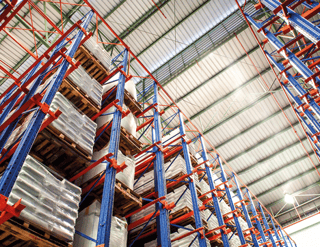 Ensuring that customers remain satisfied is the most important consideration for any business. An effective way of retaining clients is by making sure transactions are carried out in a timely and professional manner.
When organising the delivery of goods, efficient warehouse management is crucial to ensure there are no delays in providing customers with their purchased items. This will help maintain a consistent high level of service, maximise profitability and build client relationships.
Evaluate strengths and weaknesses
The most effective way for a business to assess the value of its warehouse functions is by using key performance indicators. KPIs are used frequently to evaluate the performance of almost every aspect of a company, focusing on strengths and weaknesses.
In the case of warehouse management systems, the KPIs often focus on external performance that has a direct impact on customers, such as whether shipments have arrived on schedule. But, to ensure maximum efficiency, it is necessary to look at a range of KPIs and go deeper, measuring the factors that drive the success rates.
Integrated warehouse management systems
An ERP system with a warehouse function could transform the way you run your business. The warehouse is a vital function, so key KPIs must be monitored to measure performance.
Effective stock management plays a pivotal role in customer satisfaction. The product must flow in, be stored and processed and then flow out smoothly, in the most efficient way possible. You must keep a handle on inventory turnover as tight controls on stock and inventory can help manage cash flow and gain competitive advantage. To achieve this, you must break down all the processes, assessing what improvements can be made.
In broad terms, the KPIs that needs to be monitored include productivity, time, operational costs, such as labour, space and equipment, quality and errors. In addition, the processes that feed these factors are important.
The key KPIs within warehouse management include the following:
Receiving and put-away factors - A well-run receiving area is crucial, as inadequacies in this process can significantly impact on the rest of the operation. Critical measures include volume per employee-hour, cost per line item received, accuracy of receipts and shipment delivery times. As the received goods are transferred into picking locations, the measurement of KPI can be more difficult, although not impossible. Consider these KPIs to help with productivity measurements; put-away cycle time and accuracy rate, the cost per item put away, the time from receiving to the pick location and the put-away per employee hour.
Storage - Warehouse space can be costly to run so the volume of the building should be utilised not just the floor space. Typical unit or pallet storage, mini-load or container storage and carousels can all be measured to help calculate the cost of storage per item. Review inventory levels to avoid storing discontinued or excessive stock to free up space for current and popular items. Discontinued stock can always be sold at a discounted price or in bulk.
Order picking and packing - This can be the most expensive process, consuming the most labour and is linked directly to customer satisfaction. Consider KPIs such as orders picked per hour, cost per line item picked, consumables such as cartons and packing materials and cycle times per order. Orders need to be picked quickly and accurately to maintain customer satisfaction levels.
Shipping and sale returns - Shipping is not only to clients, but also to other facilities and departments. The metrics for shipping include fill rate, number of orders shipped, cost per shipped order, cost per item shipped, labour hours per order, shipping dock utilisation, percentage of perfect shipments and the time from picked order to departure. Sale returns due to incorrect items dispatched can also help measure the number of errors in the shipping process.
You can also measure areas such as safety and security as key indicators that affect the process cycle.
WinMan ERP Software has integrated tools to support businesses in warehouse management. Contact us today for a no obligation chat with our expert advisors on how we can help you identify key KPIs and maximise efficiency.