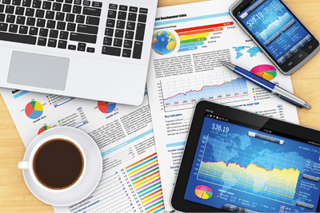 Data, and more specifically how we gather and analyse it, has made huge strides forward across a number of sectors in recent years. From customer insights to research and development discoveries, data has the potential to allow businesses to make improvements in many different parts of their operations - and this is particularly true in the case of manufacturing.

Manufacturers, especially if they are distributing the finished goods as well as producing them, can improve quality, production management, supply chain management and customer retention through the effective collation and break down of data through analytics.
Why analyse data?
Rather than simply give us inspired insights that could inform future business practices, data analytics has the ability to make immediate improvements, starting on the factory floor. A study entitled 'Data's Big Impact on Manufacturing: A Study of Executive Opinions' conducted by Honeywell found that some 67% of manufacturing executives responding to a survey planned to use big data analytics to tackle the issue of equipment problems.
By analysing relevant data, it can help decrease the downtime experienced with various pieces of equipment, getting to the root of their inefficiency or inactivity. By understanding the problem through data analytics, historically unreliable equipment can run more smoothly and safely by taking a look at the bigger picture provided by business intelligence.
Give data analytics a helping hand
Enterprise Resource Planning (ERP) systems provide manufacturers access to business intelligence, thanks to ERP reliance on a single database. This acts as a hub of information from which different areas of a business can be analysed and monitored for their efficiency. Communication between departments can also be improved by using one system.
ERP facilitates the flow of real-time information, which can be used to make immediate changes within an operation framework, or harnessed for its 'big data' capabilities in order to help drive long-term growth. For fast growing manufacturing companies who has a number of components within the production process, ERP systems almost come as a blessing because of the way they can help these firms utilise data. That means areas from the production process itself to order completion and delivery can be improved week on week, month on month and year on year.
All product and sales data can be stored within the system, allowing firms to calculate accurate costs and margins, predict future trends, stock purchasing etc. That means commercial decisions can be made quickly based on correct data.
Realise the potential of your data
Immediate improvements and positive impacts on the bottom line are available through effective harvesting of data for manufacturing companies, but they need the means to do this. That's why an investment in a comprehensive ERP solution which fits the current infrastructure requirements of a company, as well as being flexible enough to have its future needs covered, makes so much sense.
WinMan is ERP software that has been built specifically with SME manufacturing and distribution companies in mind. That means its interface is designed for the kind of data and information flow seen in manufacturing. It offers features such as inbuilt CRM system, production planning and options to integrate with third party applications also included. For manufacturers with the objective of becoming as lean as possible, ERP software such as WinMan can unlock the door to data which can change the business for the better.