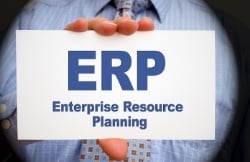 As a small to medium sized business owner, you want to obtain maximum productivity by ensuring minimal waste of resources and the best profit margins. A software system that enables efficient control and management of the manufacturing process from the initial concept and design, through to the planning stage and the actual manufacturing of parts and the end product, enables effective task management and necessary interventions along the way.
ERP (Enterprise Resource Planning) software is a system which integrates each part of the manufacturing process to ensure the smooth flow of information and operations. Such a system ensures that the day-to-day running of the various departments, assembly lines, and management functions form part of one management process. So how can ERP benefit your business? ERP software systems offer several benefits for the small to medium-sized business owner.
7 Positive Impacts of ERP Software Management Systems
Enhanced Visibility
ERP software ensures that each process is visible to the different departments involved in the business. This could include junior and senior management, as well as shareholders or stakeholders and ensures that each process is traceable. As questions may be asked as the process continues from design to end of life cycle, this improves and clarifies production objectives.
Automated Workflow
The workflow from one department to another is automated and clear, making sure that the transition between departments is smooth and fast. In this way tasks are completed much faster and each task can be traced to ensure its implementation at the correct time. A variety of processes can be automated such as taking and processing customer orders, taking inventory and financial information.
Single Reporting System
ERP systems ensure a single reporting system is used for data analysis. This may pertain to statistics, the status of manufacturing processes and involves real-time reporting across each department. This automated template ensures greater transparency and connection between different managers and departments.
Tailor-Made, Unified Database
A core component of an ERP software system is its ability to unify data and system processes. This database can be tailor-made to suit each individual business and its management and operations. As each process is automated and linked, the core structure of operations will be streamlined in precisely the way your business requires it. Businesses seldom remain static. The flexibility of an ERP system means that as the needs of your business change, so, too, will the functions of your software.
Reliable Data
In contrast to manual record keeping or outdated spreadsheet systems that operate independently of each other, an ERP system ensures that data from every department is combined into a comprehensive management tool, which can be used to ascertain performance and processes during each step of the manufacturing process.
Lower Operational Costs
By eliminating delays and communication problems and the analysis of real-time data, ERP software can reduce running costs with a view to maximising profits. The ability to obtain accurate data at any step of the manufacturing process, means that better efficiency and problem-solving become standard practice in the enterprise.
Better Supply Chain Management
By ensuring the smooth running of the procurement, customer demand, inventory processes and other functions, the entire manufacturing process can be streamlined and made much more responsive to real-time data. This enables improved planning of staff requirements, raw materials and profit forecasting.
ERP systems can drive substantial improvements in multiple business areas, including financial, resource management, distribution management, reporting and analysis. This means that your important business data can be accessed from anywhere at anytime on a daily basis.