Value isn't as simple as a healthy bottom line. After all, some have boosted their bottom lines by crossing the line, without creating any value whatsoever.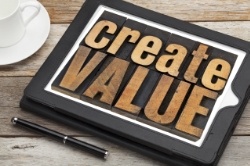 Instead, when we think of value, we are really thinking about a combination of strong customer service, high quality products and a sustainable business model that ensures reliable results.
An ERP Implementation Can Create Long-Lasting Value for Your Business
One of the most effective ways to create value is by investing in IT systems that bring every aspect of your business together under one roof. Enterprise Resource Planning (ERP) applications can turn disorganised firms into sustainable, streamlined market leaders - providing value for customers, employees and owners alike.
ERP is basically a suite of different applications which stretch from accounting to manufacturing, warehouse management, human resources and customer relationship management. By implementing it well, you can unify every department, ensuring that they all work together. That way, firms can enhance their efficiency, adding value as a result.
But how exactly does ERP create value?
One of the major benefits of ERP for value-creation is the ability to manage customer relations. Value is created when firms and customers come together. No firm can survive for long by constantly alienating its customers, relying on a consistent stream of new clients to feed their bottom line.
CRM allows managers to take a detailed look at every customer relationship. They can divide the client base into high and low value categories, targeting their marketing material and sales efforts at higher value customers. It is easier to ensure that communications with clients are informative, timely and efficient - and it implementing CRM also makes it easier to respond quickly when key clients have a complaint.
Eliminate Waste at Every Part of the Production Chain
Along with strong client relationships, value is also created through efficiency. One of the great strengths of ERP is that it focuses on production chains, allowing firms to analyse where they are wasting resources, and where they can sharpen up their processes.
For example, integrated warehouse management systems allow manufacturers to maintain just in time deliveries, with finely calibrated stock levels. This makes it much easier to tailor your production to suit market needs, rather than blindly producing whether or not there is a demand.
The shop floor is another place where waste can be reduced. ERP allows managers to maintain constant contact with shop floor managers, and to collect data about things like raw material inputs, staff absences or product defects. This helps to ensure that high quality products are manufactured as cost-effectively as possible.
Motivate Your Workforce to Add Value
Value is not magic. It is created by your workforce, so any systems that you implement need to be created with their abilities and needs in mind.
ERP is an effective way to structure your processes so that every employee has a clearly defined role and can carry out their duties effectively. It also allows every department to communicate efficiently - reducing friction between sales teams, accounts departments and production line workers. And it provides managers with a way to collect vital metrics on company performance. This allows them to know when workers are exceeding expectations, and when it is time to reward them for their efforts.
If you are looking to redesign your business with value in mind, an ERP implementation allows you to cover every aspect, leaving nothing to chance. There are plenty of ways that implementations of ERP create value. They motivate workers, satisfy customers, empower managers and streamline business processes. So it makes sense to give it a try.