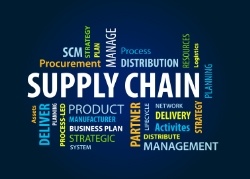 Supply chains hold companies together. When the chain breaks, everything can become chaotic. Customer complaints start to spike, production is disrupted, inventories run down or build up and accounts become unmanageable.
Ideally, companies want to create a smooth flow of information and resources along the chain, from the sourcing of raw materials to production and marketing.
In a well-managed company, production is tightly controlled according to demand, and over or under-ordering is rare, but this requires the kind of organisation and management tools that ERP software can provide.
Automate Purchasing Processes To Streamline Production
One of the major supply chain challenges is ensuring that the need for raw materials is matched up with customer demand. If you order too much, your inventory will rise beyond demand, leading to waste and lower revenues. If you order too little, delivery can be delayed and orders can be lost. So it is a delicate balancing act.
In the past, ordering raw materials has been a stressful operation for managers – but ERP software can help simplify this. By automating your materials purchasing processes, you can configure the system to automatically create a purchase order of stocks materials as inventory levels decline. These orders can be synched up with demand, with information provided by the commercial team. The result is greater efficiency and far less worry.
Shop Around For a Better Deal
Another way to fine-tune your supply chain is by shopping around for more efficient, higher quality vendors. Companies often enter into long-term B2B relationships that are based on personal contacts, sentiment and routine. Even when orders start to be missed and quality declines, it can be hard to break these links.
Instead of hanging onto old relationships, firms should always be looking for the most effective partners. Using market research tools, you can find information about all of the market players. With this information, you could negotiate a better price with existing suppliers or find completely new partners.
Create A Feedback Loop From Your Customers
Many firms fail to make use of their most important asset – the opinions and loyalty of their customers. This is a huge mistake when you are seeking to perfect your supply chain, as customers are the ones who know when processes are failing and products aren't measuring up.
Make a point of asking for customer feedback as part of your CRM routines. Some customers can be flagged as high value partners – and give them rewards if they participate. Their evidence can allow you to hone your production techniques, and they can also give you advice about market trends, so don't alienate them.
Make Your Ordering as Efficient As Possible
Many manufacturers fail to optimise their ordering strategies, resulting in a number of inefficiencies. One easily avoidable problem is duplicated orders from suppliers. Instead of each department ordering separately, it makes sense to bring ordering together on an enterprise-wide basis, and ERP software is a good way to do so.
When all of your ordering power is pooled, you will be in a better position to negotiate prices with suppliers, and you won't duplicate so many orders. The information collected can also be used to improve future orders, creating a virtuous circle – so there are plenty of positives.
With an efficient supply chain in place, firms often see their revenues and profits start to rise after long periods of stagnation. Saving money on supplies and ordering the right amount to suit your inventory doesn't just eliminate waste. It also makes the whole enterprise leaner and more agile.
With ERP packages like WinMan in place, manufacturing firms can take control of their supply chains and turn them into taut, powerful tools that get the best deal from suppliers and meet ever-changing customer needs.