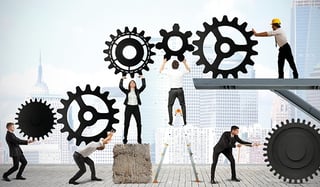 ERP is a type of business software that allows you to integrate all areas of your business into one, single system. From sales and marketing to warehouse management and production planning, all stages of a business can be pulled together, with many processes that normally take a lot of time can be programmed to be done automatically within the system.
By its very nature, switching to an ERP system improves a company's efficiency, leads to fewer anomalies in customer service and opens up new capabilities that weren't possible beforehand.
For example, this is how it works in practice:
Employee takes an order from a customer and has all the information they need to complete the order at their fingertips.
Everyone in the company can view that order by logging onto the centralised system.
Production team can see what products and quantities need to be manufactured, allowing them to create MRPs and schedule the jobs accordingly.
Once the order has been manufactured, dispatch and finance departments can be automatically informed so they can continue with the next stages of the process at their ends.
Everyone in the company can watch the order being tracked throughout its shipping and delivery stage as ERP provides full traceability.
That's just a single example of how ERP software can enable your company to run as efficiently and smoothly as possible, maximising business improvement. Here are a few other ways in which it can do just this.
Oversee business performance
Business performance can be measured in various different ways at all levels of a company, and changes made in one area will inevitably have a knock-on effect on all others.

It's because of this that being able to view performance metrics for all areas of your company in one place can give you a greater insight into the overall workings of your business, thereby allowing you to reach more appropriate decisions.

Using the example earlier, a manager can look at the sale reports to determine overall sale figures, customer trends and return rates. Managers can also see whether their employees are asking customers about their order specifications, compare those statistics to how many items get returned after shipping and assess how both processes can be improved simultaneously.
Automate back-room functions
Many time-consuming or manual processes, such as emailing order receipts, delivery confirmations and invoices can all be done automatically using ERP.
An ERP system can automatically carry out these processes with little manual oversight, making your business process management far more efficient. Providing all the information is regularly fed into the system, it could send out invoices on the same date each month, provide monthly sales reports to managers and so forth.
Integration with other systems
Depending on the ERP system they can also be easily integrated with other third-party software to further streamline the business. For instance, with WinMan ERP software can be integrated with a number of freight carriers to remove duplication of data. Integration provides easy tracking and proof of delivery.
WinMan ERP software
As a UK and US-based ERP software vendor and distributor, WinMan specialises in helping SME manufacturing and distribution companies make the most out of their new ERP system. If you'd like to see what our product can offer you, get in touch with us today.