Bookkeepers and accountants are responsible for so many tasks within a business that it can often feel like they are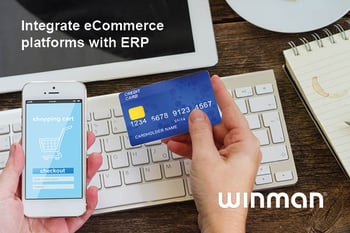 constantly playing catch up with their work. Regularly updating invoices and ledgers is just one aspect of it. An ERP system that is linked to every area of your business, including financials, can reduce the time spent on these daily tasks.

Automation also reduces the need for paper copies, multiple spreadsheets and data entry, reducing errors and freeing up time that can be put into more important areas. Read on to learn how an ERP solution can help you manage your financial operations better
What areas will benefit from ERP?
Receivables and payables
An all-in-one ERP solution that has sales, customer relationship management and inventory management all linked means that you can see sales orders and invoices as they come in, in one centralised area. If your business uses eCommerce, this is especially valuable as it means you can see every order and know they have already been paid for and set up projects against customers. This is also beneficial for those in a supply chain, offering access to suppliers.

Having all of this information to hand can benefit financial forecasting for optimised decision-making. Plus, it creates an instant audit trail for any disputes to be solved instantly.

Sales and purchase ledgers
Sales and purchase ledgers are an important part of your integrated solution because they give you full transparency over every incoming and outgoing payment, meaning accountants can easily spot profit and loss. Outstanding amounts and discrepancies can be addressed right away and you are able to keep track of all assets, liabilities and capital in one centralised system.

Overdue collections and refunds
Having access to this real-time information means that you can run reports and see overdue invoices instantly. This makes for better customer relationships as you can manage any collections or refunds that are due in good time as well as automate the collection process or trigger email reminders to be sent out.

Employee expenses
An ERP solution allows employees to self-enter their work-related expenses and add photos of receipts. This not only eliminates the risk of loss or damage associated with using paper receipts but also means that employees can log expenses as they go instead of waiting until the end of the month speeding up the process.

Asset management
You will also be able to keep track of company assets such as cars, properties, hardware and equipment. Within the system, you can record how they are expected to depreciate over time and when they will be due for replacement alongside keeping track of their service and maintenance costs.

Reporting and analytics
The ability to run reports for data analysis is highly beneficial for streamlining processes. Greater attention can then be given to insights into business performance, where money is being spent and where outstanding expenditure is so that improvements can be optimised. With access to this on a weekly, monthly, quarterly and yearly basis, it couldn't be easier to plan for the future.

Compliance
Auditors often require you to be able to provide accurate records of all transactions and automated compliance. With an ERP solution, this can be done at the click of a button, taking the time and stress out of your year-end reporting.


These are just some of the advantages of having financials as part of your automated ERP solution. Connecting your data across every department gives full transparency without the need for error-prone data re-entering. To find out more and start your implementation today, get in contact with WinMan.