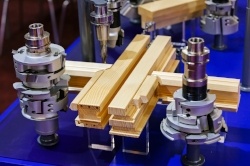 Some sectors lend themselves really well to the implementation of ERP, and this is particularly the case regarding furniture manufacturing.
If your firm is struggling to maintain efficiency or you cannot find the data you need within a few clicks, solutions are available, including the introduction of different ways of working and IT infrastructure to back them up.


Standardise Your Production With Ease
Furniture manufacturing requires the ability to produce large amounts of standard parts. If this breaks down, so can the armchairs or tables that your firm produces, and it doesn't take a genius to know the results – dissatisfied customers, decrease in quality and a plummeting corporate reputation.
If you need to manufacture furniture components reliably, you can use ERP to fine tune your processes. ERP users can constantly keep an eye on quality via regular audits, and feed this back to your engineers to make an adjustments to the production line when problems are identified.
Source Materials Smoothly With ERP
Most furniture items require the processing of large quantities of wood, metal and plastic, meaning that sourcing materials can be a constant challenge. Furniture manufacturing often requires dealing with suppliers from different countries and industries. The same chair could have steel from China, wood from Scandinavia and fabric made in Romania. All of these materials need to be sourced reliably and economically.
ERP software allows you to monitor your ordering strategies, so that any price spikes, delays or quality issues are flagged up and raised as quickly as possible. That way, you can ensure smooth relations with suppliers and high quality products.
Keep Customers Happy With CRM
Furniture manufacturing is like any other manufacturing concern – it relies on loyal customers (often retailers) to keep coming back for more. The problem is that delayed deliveries or a batch of faulty products can destroy a client relationship.
Avoid this kind of client-relations disaster by implementing Customer Relationship Management across your enterprise. CRM automates key functions of customer relations, ensuring that staff are alerted when clients have a query or complaint. It also allows you to update your client base when new products or promotions are announced, boosting your chances of repeat sales.
Make Furniture Manufacturing Flexible to Satisfy Fashion Tastes
Furniture is like apparel or cars. Tastes change, sometimes leaving manufacturers with an out of date product base. Avoid this kind of situation by making your production line as flexible as possible. Enterprise Resource Planning (ERP) software can make it much easier to introduce new designs, allowing you to stay ahead of the fashion curve. These changes can build upon process manufacturing systems, blending the benefits of mass production with the ability to respond quickly when circumstances change.
Allow Managers to Analyse Company Performance
When you are manufacturing furniture, it helps to have access to data about product quality, inventory management, staff performance and client satisfaction. But it helps even more if this data can be collected at a central point, analysed by managers and then converted into effective action on the shop floor.
With ERP, you can achieve a much higher level of information awareness. Any production bottlenecks can be analysed in real time. Spikes in product defects can be noted and dealt with. Clusters of client complaints can be assessed as well. It all contributes to a slick, responsive operation that is focused on quality and customer satisfaction, and it makes managers' lives easier too.
If your furniture manufacturing firm is struggling to reach customers, retain their loyalty or produce a quality product, solutions are at hand. The ERP solutions offered by WinMan could enable your firm to break through to higher revenues and profits, whether you make beds, dining tables or sofas.