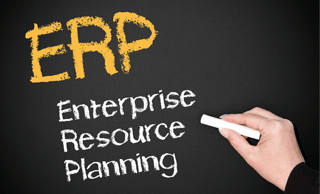 Businesses often rely on technology to manage daily operations. Many are making the decision to move to a suitable Enterprise Resource Planning (ERP) platform due to the range of functionality it can offer and its ability to improve business operations and productivity.
A good ERP platform will help meet a whole range of business challenges in various industry-specific contexts. The following features highlight just some of the applications your company could utilise upon successful implementation:
Customer Relationship Management (CRM):
One of the most important aspects of any business organisation is attracting and retaining customers. CRM will allow sales staff to accurately log and record sales activities from start to finish, ensuring active sales orders and potential leads are all tracked and allocated in the most efficient manner possible.
Communication and Business Intelligence:
Analysing your business data is no easy feat. But with a good ERP you can organise your company's information streams because all your data will be within one system. You will be able to utilise a variety of analytical tools to make informed business decisions and remain competitive in your industry sector. Communication between departments can also be improved because different teams are no longer working on separate systems.
Supply Chain and Warehouse Co-ordination:
An ERP platform will oversee the smooth functioning of your whole supply chain; and by catching inventory issues in time - and smoothing seasonal "hot-spots" - it will help your company to optimally meet your clients' needs while also setting you up to negotiate future projects and business development.
Effective supply chain management will facilitate the improvement of warehouse processes such as having sufficient stock levels at all times. Among other things, an ERP system will have functions to assist your warehouse operations such as lot number and serial tracking, stock management, multi-location stock transfers and tailored picking instructions.
Supplier and Partnership:
As your company and business interests grow, your supply chain and the partnerships can become more complex. To improve business operations, an ERP system will improve ease of access to documents such as contracts, orders to pricing and approval data. Supplier information such as delivery lead times stored within the system will also assist with production planning and inventory management.
Human Resources:
All aspects of human resource management can be streamlined to improve business operations. From training and staff certification, to holiday and attendance tracking. By having a human resources management tool within your main business system it will help automate and speed-up all those administrative and data storage challenges your HR department might face.
Regulatory Compliance:
ERP can help provide traceability because it is fully integrated with your company's operation. From audit trails to quality control, the ERP platform will ensure that your organisation operates efficiently within your chosen sector's legal framework.
Transactions:
Depending on your specific industry sector, the point of sale needs of your company may be more or less complex. Regardless, a good platform, such as WinMan ERP can provide complete centralisation of all your relevant order and customer transactions as it can be linked from your website to your system, allowing you to generate real-time sales reports and manage stock levels efficiently.