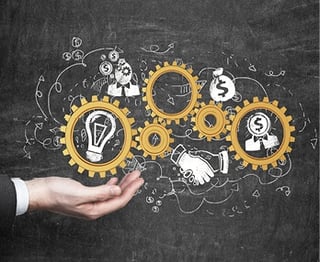 Chances are you've heard of the concept 'lean management' being bandied around, although you may not know entirely what it means. Essentially, it's an approach to business that enables you to continually improve over time.
In making lots of small but incremental changes to how you work over the long term, the goal is to create a lean environment which will help to improve quality, efficiency and customer service. It's about finding anything that doesn't add value and cutting it out to ensure time, money and effort aren't being shattered.

Lean principles can be applied to improve operational productivity - such as administrative or back-office tasks. But how do you actually go about implementing lean practices in your workplace? Here are eight ways to introduce it to your office or manufacturing...
1. Ensure all staff are on board
Lean management is not a voluntary choice or something that only concerns the lower end of the workforce hierarchy. It is something that all your team should be committed to enforcing from the top down.

Ensuring everyone is on the same page will help to avoid conflict. At the same time, it is important to ensure people have the space in which to think about what improvements they think need making.
2. Learn from the experts
'The Toyota Way' is widely considered to be one of the best kinds of lean management techniques in place. It is a set of 14 management principles that summarise its values, philosophy and manufacturing ideals.

It works on the basis that this is a long-term set of beliefs, in which having the right process will help to produce the right results. It believes that by developing your people you will add value to your organisation and that continually solving root problems will drive organisational learning.

Their 14 principles are like a blueprint for lean and it is well worth reading over them and implementing as many of their ideas as possible.
3. Don't spend too long on training
While it is important to ensure all staff are on board, adding lean in the workplace is very much about vocational learning. To start with, there should be approximately 80 percent doing and 20 percent training and information.

This means people will be put into difficult situations and by dealing with it face on, will find the best solution for themselves. This offers an efficient, hands-on approach.

At the same time, it is still important to put time and effort into growing your staff to ensure they feel confident and trained in their work, understand what you're doing and are living and breathing your principles and philosophy.
4. Review your processes and analyse
Take a look at your processes and see what immediate changes can be made. For example, are you experiencing overproduction or excess delays? Perhaps you're shipping items in too many batches when they could be combined together for greater efficiency and cost-saving? Are there problems being caused by the office not processing information quickly or correctly, or perhaps items are coming out with defects?

It is important to look out for where your most obvious problems are and start with these as your initial changes. Ultimately, any customer just wants the best value and service available to them. With all your processes, it is important to ask if this is what you're offering in relation to the cost. Think about what the customer wants and whether you can improve on this to give them results quicker, more cost-effective and to a higher quality.
5. Develop a culture of quality over quantity
If you're experiencing problems with your output, it may be that your staff are trying to work too fast to meet unattainable goals and are subsequently not maintaining quality standards leading to higher levels of defects or customer dissatisfaction.

Getting it right the first time round is best for efficiency, so ensure staff realise that quality takes precedence. Don't overburden staff and allow them the time to stop and fix problems in order to always do things correctly.

Accuracy, productivity and motivation can also be encouraged by introducing employee incentives in the workplace like rewards for the employee of the month or monthly team treats for good performance.
6. Standardise your tasks when possible
Not all tasks can be standardised but putting clear processes in place when possible will ensure tasks are completed to a standard system; making it efficient, productive and lowering the risk of errors. It also means when staff leave, they don't necessarily take their knowledge and processes with them – and when new staff arrive, they can be quickly and easily trained. This also ensures you can spot when something is not working or not being done properly.
7. Make decisions slowly, and implement them quickly
When it comes to deciding what will bring about lean management in your workplace, it's important to spend time ensuring it is the right decision and getting a strong consensus from the whole team. Nothing wastes time more than making one decision and changing it the next week. However, once you have decided on the right answer, you need to bring about the implementation of it as quickly as you can.
8. Think outside the box
Sometimes the processes that will save you the most time and money won't be the most conventional. They won't fit within the boundaries of common sense and standard rules, so it is important to always think outside of these parameters. Is there something else you haven't considered? Be constantly aware that the answer may not be right in front of you.
Manage your resources
Implementing an ERP system is one of the great ways to streamline your productivity and efficiently manage your resources. The WinMan ERP system is a great all-in-one software solution that supports optimal business practices, helping your company become a lean business. Get in touch with us today to find out more or download a copy of the features brochure.