Enterprise Resource Planning (ERP) systems are software packages that connect all aspects of a business together. With an ERP system in place, all departments can stay on the same page, from accounts and human resources to design, marketing, production and customer relations.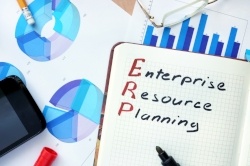 Bringing all of your operations together under one system has many advantages. You can automate certain processes, schedule projects with precision, and keep track of orders and stock levels. Most of all, you can make your business leaner, easier to manage and more productive. Here are some of the ways to make that happen via ERP.
An ERP System Will Make Project Management Simple
Most small or medium sized enterprises can be modelled as a collection of projects. These might be large scale production line overhauls, IT security updates or staffing changes, but they have one thing in common. To succeed, project managers need to be able to set schedules, monitor performance, communicate effectively and track progress.
ERP packages allow your staff to do all of these things. Projects can be planned out to the smallest detail, with agreed milestones and objectives. Staff can stay in the loop and managers can remain aware and in control of all developments.
Automate the Little Things and Focus on What Matters
Improving staff productivity should be an objective for all businesses, but especially for small manufacturers that operate on tight margins. Many staff actions, such as responding to customer queries, scheduling stock takes and audits, or performance reviews, can be automated with the right ERP system.
Repetitive, simple tasks can be left to IT systems to carry out, and staff can be provided with alerts when tasks need to be carried out. This leaves more time for your employees to focus on their core roles: improving product quality and customer service.
Use ERP Data Collection Tools to Analyse Your Business
All businesses generate streams of information. In fact, one way of conceptualising a production line is as a data generating machine. It constantly churns out information about product quality, staff productivity, resource consumption, stock levels and customer demand.
An ERP system can collect data on any metrics that you choose. You can then turn streams of raw data into useful information, and plug that into spreadsheets and reports, which can then be acted upon. Managers who know where resources are being wasted can then attack the sources of waste, making your firm leaner and more productive.
Managing Expansion with an ERP System
When business is good, it's natural for firms to think about expanding. That could mean installing new plant to increase production,increasing marketing activity to attract new clients or introducing new product lines to augment your range.
All of these approaches to growth can be assisted by ERP implementations like WinMan. You can use an WinMan ERP to assess how much your production should be expanded, and to do so in a way that doesn't disrupt your inventory and delivery strategies. New products can be introduced with the entire process in mind, so that quality doesn't dip. Marketers and sales teams can take advantage of integrated Customer Relationship Management tools to maximise their effectiveness.
An ERP software system is useful on many levels, whether you are seeking to expand with confidence, restore your product quality levels or protect your market position by improving customer relationships. Whatever your market or situation, ERP is a technology that can put you in control, enabling you tackle the future with energy and purpose.
At WinMan, we can advise about how to implement the right ERP software package, so get in touch and arrange a consultation today.