I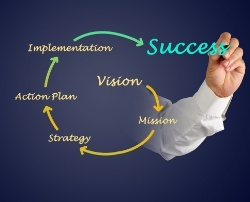 n some ways, running a business is like becoming a politician. You need to maintain your authority over those who work for you, distributing resources skilfully to achieve maximum gain. You need to know what the people want – or at least your customers. But more than that, you need to ensure that everyone has the power they need to get their jobs done.
So maybe now it's time to think like a politician and to reorganise the structure of your business. With the a little planning, the right IT systems and the confidence to give power to others, you can revitalise your firm in no time.
Carry Out a Skills Audit
One way to get a handle on your firm is to carry out a "deep dive" audit of every employee's skills and qualifications. If you are experiencing difficulties with marketing, or your invoicing has stalled, there may be a need to train your staff in the latest techniques. In some cases, whole departments might be lagging behind the times. If so, send them off to train, or bring in new staff with the energy and willingness to learn that successful firms need.
Make Sure Every Department is Pulling Together
In politics, you often hear about "joined up government" – which refers to different ministries working in tandem to achieve better results. This is no different in small and medium sized manufacturing firms. In fact, having every department working in harmony is one of the keys to continuing success.
Carry out an exercise to find out whether resources are being duplicated at a departmental level. Are sales staff contacting clients multiple times? Do the research and development team really know what the marketing strategy is, and vice versa? It's time to find out; because by moving to an IT solution like Enterprise Resource Planning (ERP) every department can be working from the same information.
Set Up A Slick Communications System
Talking is an effective way to keep a company together – so use it to your best advantage. If you have sales teams out at conferences, and IT professionals working from home, ensure that they can always speak to each other by installing the right IT packages.
The same applies to talking to customers. Strong companies maintain strong relationships with strategically important customers. So spend some time working out which customers are the most likely to boost your bottom line with repeat purchases, and who to target with your blogs, social media content and newsletters.
Reward Your Workforce Regularly
Power is not just about putting the right systems in place. It's also about charisma and persuasion. All managers rely on their ability to develop working relationships with staff to deliver better performance and motivate employees to do their best – so think about this side of the equation as well.
Why not organise a schedule of away days and staff events that can regularly reward them for their good work? If staff constantly feel that the management are attentive to their needs, and that they appreciate their efforts, they will feel a tighter bond to the brand, and to their everyday tasks.
If you feel that your company is out of control, you want to feel that you have greater awareness of corporate operations, or you desire better communications with key staff - power is what you really need.
Now is the time to reorganise your company to centralise power and then distribute it to the right people. With an ERP system in place, slick messaging systems, good client management routines and staff rewards, you can feel in command, and get the job done.