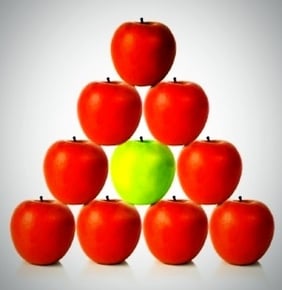 Buyers have never been savvier, nor more focused on value for money - so pricing needs to be competitive while maintaining quality. However customer loyalty can still be found, but even the most loyal buyers can melt away if they find the same product(s) somewhere else for less. To maintain a healthy order book, keep hold of contracts and attract new sales, manufacturers need to define themselves within the growing marketplace.
It's not what you sell, it's the way you sell it
One of the most important ways manufacturers can gain a competitive advantage is to produce, position and promote their products within clear Unique Selling Propositions (USP). Your USPs are not just pithy and attractive selling expressions. They are the core values of your products, and they inform and support the whole manufacturing process – from R&D to delivery. It's surprising how many manufacturers have still not clearly defined their USPs – the core values of their products – despite the fact they are an inherent part of any company's 'brand' identity.
What differentiates your product from the competition?
Your USPs should be chosen based on what your target customer values and requires; for example, there is no point differentiating your company who has the best black furniture available if the current market trend is white.
Armed with good customer insight and market research, your next task should be listing the different elements of your manufacturing process and product features that set you apart from the competition.
Pricing - Are your products in the low, middle or high-end bracket?
Product design - Is it better suited to its function, last longer or more portable than others in the market?
Materials used - High-quality material, eco-friendly or fair trade?
Manufacturing process - Is it handmade? Mass produced? Configurated or manufactured to specific requirements?
Questions like this could help you determine your unique selling propositions.
Adaptability to customer demands
Without a doubt, every manufacturer should actively promote USPs to their target audience, to remain competitive. For companies with a long-term systematic production approach without adapting to market changes, innovation, continuous improvements and a clear defined USP can find themselves becoming obsolete.

The ability to adapt swiftly to individual customer demands or provide the option made-to-order products can be a powerful USP. As customers are more sophisticated these days as they have access to the global marketplace with a few clicks, companies can lose and gain business in an instant; especially if you cannot offer a degree of flexibility in your manufacturing processes and product offering.

Made-to-order manufacturers should invest in ERP software - with integrated product configuration capabilities to assist with managing and production of bespoke items, it can also support and improve your 'Unique Selling Propositions'.
Software to expand and support USPs for manufacturers
Manufacturing software which ties together order entry, CRM, MRP, production management and delivery processes, are vital in today's consumer-driven marketplace. Highly responsive and agile manufacturing processes can only exist if they are based on real-time reporting from dedicated manufacturing software solutions. ERP manufacturing software is the springboard to respond to ever-changing customer demands – quickly and cost effectively.

This includes developing or supporting "made to order" capabilities. For some companies in business-to-consumer industries – including a number in the furniture trade – by providing a bespoke service online is transforming them into highly successful enterprises. To explore how manufacturing ERP and product configuration software can unleash the full power of your manufacturing USPs, please contact WinMan today.