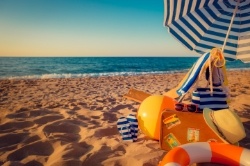 Holidays are supposed to give you a chance to recharge your batteries by getting away from the stresses and strains of working life, right? You may well be shaking your head at this point, remembering your last trip to the Azores, when you hardly had a second away from the computer screen.
In the age of smartphones, tablets and free Wi-Fi hotel internet, it sometimes seems impossible to truly get away and re-energise your mind and body. However, there are some things that you can do before leaving your office to make the holiday experience as restful as possible.
Make Sure That Everyone Knows Their Role
This is crucial to providing peace of mind when you jet off to warmer climates. Before you leave, sit your managers and team leaders down. Ask them about the risks that they feel that they may face while you are away and ask them to present mitigation strategies. Make contacting you part of the decision loop – but stress that it is a last resort, not a go-to option.
If you can agree some red lines about how to contact you and how autonomous your staff should be, then you (and they) can worry less about keeping the organisation going while you are absent.
Time Your Trip Strategically
One of the main mistakes that executives make when heading abroad is forgetting about events that requires their participation. If your firm has a project milestone due while you are away, this could require you to sign off on a team's progress or to suggest ways forward. Either way, you need to avoid having a phone conference with staff at 6 a.m. in your hotel room.
Plan your trip so that it takes place in the down-time between scheduled milestones. It helps to have IT systems in place that can instantly tell you when your time is needed.
Sometimes, you can delegate certain events, but even then managers tend to feel anxious about how processes are working out. So give yourself a clean break for a week, and make yourself available only in emergencies.
Don't Leave Any Loose Ends Dangling
Whenever you depart for a holiday, try to resolve as many outstanding issues as you can. The week before your holiday is a chance to tie up any loose ends. The last thing you want is a staff member calling you up about their leave entitlement as you get ready to head out on safari.
Refrain from taking on new projects just before leaving – or ask team members not to contact you about the project until you get back. In that first week, as the project takes shape, staff will inevitably seek the guidance of managers, so try to stay out of the loop until you return.
Make Holiday Scheduling and Decision Making Easy With ERP
Most of the factors discussed above can be resolved by improving your IT systems so that they provide better information and allow you to make decisions quickly and decisively.
Enterprise Resource Planning (ERP) is a great solution to your holiday worries, and is well worth exploring if you have ever been tied to your phone by the pool.
With ERP, you can instantly find out about project schedules, so you won't miss a big presentation or project deadline while you are away. Messaging is streamlined too, so you can keep everyone informed before you go and (if absolutely necessary) you can make the most of your working time when you are away.
ERP seeks to make businesses as a whole more efficient, so that all staff members know exactly what they are doing. If you know that staff are empowered to make their own decisions, there is less incentive to log in and find out how your projects are going.