ERP systems for manufacturing companies, whether discrete or continuous, will unite the business processes together with the technology. Traditionally, manufacturing businesses operate by focusing on the following integrals: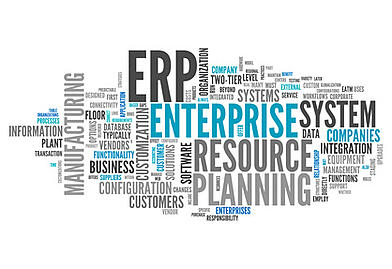 product data management
manufacturing, planning, scheduling and execution
automated data collection
compliance management
lean processing
total quality management
advanced planning and scheduling
product life cycle management

Businesses can gain a control over all these aspects to optimize their performance. In simple words, the enterprise resource planning tool helps a business to grow proactively by bridging the gaps from customers to suppliers and from suppliers to employees.
How Is The Manufacturing Industry Adopting ERP Systems?
Manufacturing companies are looking for standalone solutions which they can use to get data anytime, anywhere with complete options for scalability, without adding burdens to internal resources. They are looking for ways to control risk by assessing the critical data without affecting their freedom for customisation. They are widening their requirements to include handheld device of their users. They are looking for business intelligence. Companies are looking to provide a platform that allows tighter integration between the customers and suppliers and the manufacturing process. Manufacturing operations are more profitable with ERP technology.
When Should A Manufacturing Company Go For ERP?
When a manufacturing company is looking to increase its ROI and looking for business re-engineering, process upgrading and assessing its readiness to adapt to changes, it is the optimum time for you to consider an ERP implementation. Implementation of the WinMan ERP software will results in higher ROI, along with comprehensive assessment of business strategies, and models focus on organisational structures, processes and personnel. It creates maps to further analyse the justified processes by highlighting gaps and offering a responsive, interactive change management plan.
Why Is Selecting the Right ERP Important?
With processes that are streamlined in ways that facilitate effective and efficient decision-making from a well-organised data pool, businesses can generate and add incremental value to themselves. What matters the most in this context is the business's self-understanding of the ERP tools. You can buy any software tool with the ERP flavour but it might not deliver the value or bring the business success for which you were looking for, for very long. Selection of the ERP tools is therefore of tremendous importance for businesses. The enterprise must understand and adapt to the endless innovative opportunities an ERP creates by accounting, adjusting and optimising the operations, and by identifying the gaps, assessing the issues and developing drivers.
When Will ERP Give You Results?
It is only once you understand what a manufacturing ERP is and how it can benefit your manufacturing company that your journey towards success will begin, and its success depends largely on your situation.
To make the best use of the system you will need to ensure that you have these three essentials organised:
The right team to make the best use of opportunities that the ERP provides for you.
A detailed look at the processes, structures, routes and practices – making sure that a full review is carried out.
Top management's commitment and drive for consistent progressive quality enhancement and standardisation.
How Does ERP Benefit Manufacturing Companies?
ERP adds better managerial capabilities to manage the product data. It provides the capability required to track different aspects of the manufacturing company: the numbers, bills, routes and work centres all together so that the change within a product can be managed and controlled, based on its lifecycle phase.
For manufacturing companies, ERP has the ability to turn a complex and comprehensive manufacturing plan into one which is well organised and easy to use with data accuracy and readiness for reproduction. The ERP's combine Master Production Schedule (MPS) with Materials Requirement Planning (MRP) to support all the control interventions in both the discrete and continuous production lines, with room for making linear adjustments to modify the result and meet changing demands from the customers.
ERP tools provide the comprehensive requirements to track production, as well as relevant operations for completing, scrapping and reworking results with quality. They create the flexibility that manufacturing companies require in their discrete and continuous production processes.
ERP provides control over quality management. It will extend your capabilities to maintain quality in the process chain by inspecting and testing raw materials, in-process-materials and finished products. Operation and management of inventory become harmonised with standardisation of procedures.
The latest principles for inventory or process handling which the manufacturing company adopts, such as Kanban and JIT, will continue to give results for the lean mechanism that an ERP establishes.
Process route verification in a simulated environment is another important advantage of ERP, and supplier performance analysis and management are available with such tools.
Why Choose WinMan As Your Ultimate ERP Solution?
WinMan is a well-known ERP application for manufacturing businesses and can formulate material and distribution planning requirements by comparing the forecasted demand with supply and inventory position. All the required and relevant functionalities will be integrated, from service and project management to production, inventory, and sourcing and human resource management.
Needless to say, implementing ERP within your manufacturing company will bring the momentum you need.