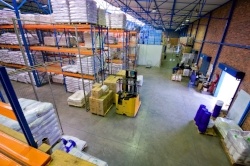 Warehouse management is crucial manufacturing success, but not all firms take steps to make their warehousing and inventory processes as efficient (and profitable) as they could be. It is a competitive SME environment, which makes efficient warehouse management an absolute priority if you don't want to be left behind.
Modern warehouse management software can add an extra edge to your everyday storage, handling and delivery systems, and here are a few ways how.
Use Warehouse Management Software to Achieve High Resolution Product Tracking
With a warehouse management IT system in place, manufacturers can keep track of every component and product to an extremely high degree of detail. If items are logged onto the system by handling staff, technicians can see how they flow through the production process, how efficiently they are being used and how well they are being delivered to customers.
Manage Your Inventory With Precision
Warehouse management software also allows firms to keep track of key inventory levels. When they run low, it could be a sign that demand is outstripping supply, and that production needs to increase. When inventories are too high, there may be problems with fulfilling orders, or it could be a sign that a given product range has run its course. Either way, warehousing software can give you an idea about what is happening with accurate data.
Make Delivery as Slick as Possible
Manufacturers depend on consistent, fast and high quality delivery mechanisms. Clients expect shipments on time and in a good condition – not always an easy balance to strike. Warehouse management software allows firms to track customer service issues, and see immediately when a problem arises. They can also carry out quality control audits on delivered goods easily and quickly, keeping the delivery system in shape.
Give Your Employees a Productivity Boost
Warehouse management software allows staff on the shop floor to work smarter, more safely and more profitably. They can order supplies with ease, pick orders more quickly, make changes to production systems and fulfil orders more capably. This is amplified when you combine warehousing software with over-arching systems like Enterprise Resource Planning (ERP) solutions, which can create integrated production processes and track every step of the production system.
Eliminate Warehouse Waste
Warehouses can be wasteful places, withdrawing revenues out of the company and making them less safe for employees. Damaged goods can stack up, stocks can become chaotic and machinery used in the warehouse can malfunction if warehouses are poorly run. With warehouse management software in place, managers can create rational systems for every on-site process. They can assess where waste is being generated and formulate ways to counteract it. The end result is a happier workforce and higher profits.
Prepare Your Storage Sites for Flexible Production
Many small and medium manufacturers have moved into highly flexible, client-centred production, as opposed to pure mass production. This requires sophisticated storage systems to keep track of different kinds of product and a wide range of delivery destinations. Modern warehouse management software solutions can allow new products to fit seamlessly into your warehousing systems, so that there are no delays in delivering them to clients and any damage is minimal.
Warehouse management software is a vital weapon in the armoury of small and medium sized manufacturers and distributors. It can make production, storage and delivery much more efficient, driving up revenues and keeping your firm lean and responsive. Check out ERP packages like WinMan, which include powerful warehouse management components and turn your warehouse management practices around.