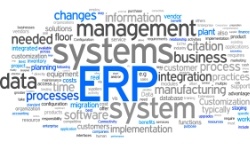 ERP Software takes a lot of time and effort to install – but more and more businesses seem to be adopting and benefiting from ERP. Business software crazes come and go, so is ERP really any different and if so, can it really improve your productivity enough to make up for the trouble of putting it in place?
Why install ERP?
Investment in technology and software is required for any business that wants to stay ahead and for many manufacturers and distributors moving to ERP is a common choice. Unlike other software ERP systems are built to be integrated often with a range of features to help increase business productivity and efficiency. It is designed to integrate tasks and processes such as planning and scheduling, warehouse management, supply chain management, financials and sales within one business system. This helps limit data duplication and provides real-time business intelligence.
Another benefit is certain processes such as EDI, producing invoices and reports can be automated, which frees up management level staff to concentrate on the things that only humans can do such as training staff, identifying new business opportunities, negotiating deals and making strategic decisions. It helps take human fallibility out of the equation. ERP is faster, more efficient and more consistent than traditional manual processes. The business intelligence gathered within the system will also assist decision making and problem resolution.
The installation process
It's easy to see the benefits of ERP, but the installation process can be time-consuming and complex. Due to the nature of ERP software, you will only truly benefit from it if the right data was added and processes are carefully thought about before the installation process. In most cases, it is not just moving from one system to another but often consolidating different systems into one, so forward planning can make all the difference.
The best way to start is to put together a dedicated installation team and have them begin by going over the issues in detail first and identifying any areas where problems are likely to occur. Remember that reliable ERP companies like WinMan can give you advice to help things go smoothly.

Delivering ERP training to your staff at the point of installation will also help iron out any uncertainties and ensure that they can hit the ground running. Investing in infrastructure and your team at the same time does require time and resources but it can give your business productivity a massive boost.