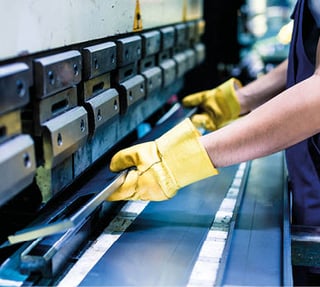 In the current economic climate, manufacturers and business are constantly looking for ways to optimise and stay lean and competitive. Technology and real-time data are increasingly critical tools for success and, at WinMan, we know ERP software can be key in achieving continuous improvement for your business.
Create a common language for greater employee productivity
By centralising access to data in one common database, you'll improve the ways your company shares and manages information. We've seen the way that creating this common communication language works to simplify the ways you share and understand important information.
You'll also improve workflow by creating standardised operation processes across your business. By giving all employees access to the information they need, when they need it, you'll improve efficiency for a leaner operating environment.
But let's say you already operate in a lean environment. ERP can help you maintain that edge by automating manual operations, so fewer man hours are logged completing the same amount of work.
Improve the inventory equation and automate manufacturing processes
By staying on top of materials management and product inventory, you'll make sure you have the right materials at the right time to supply and move product to your customers.
When you automate your manufacturing processes, you'll improve both the efficiency and quality of those processes by tracking and monitoring with ERP. And you'll catch potential issues faster before they have a chance to impact on quality control.
Improved collaboration with suppliers and customers
By improving virtual communication across the supply chain, ERP can optimise business processes and dramatically improve responsiveness times. Improving internal communication between apparently unrelated departments can have a positive impact on collaboration across the company. Closer collaboration with partners can mean that specific challenges are met in a timely fashion.
Being quick to respond to change and improve your customer relationships is just one of the ways ERP software can impact as a continuous business improvement tool. If you can mine important information with ease, then you'll be more agile in leveraging development opportunities for your business.
Streamline human resources
Streamlining human resource operations like training and attendance tracking can also have a positive impact on your business operations. By integrating HRM in your main ERP business system, you'll automate many of the paper-based admin tasks facing your HR department.
Allowing HR to focus on developing your workforce is a win-win for your business because good HRM can be crucial to maintaining a lean workforce who respond to any challenge. You'll be rewarded with employees who are more engaged, innovative and productive.
Make the most of cross functional teams
A lean team that shares information is a team that can produce innovative solutions using shared knowledge and expertise that cuts across silos. And that insight is often crucial in gaining insights on improving your business processes that lead to continuous improvement and productivity.