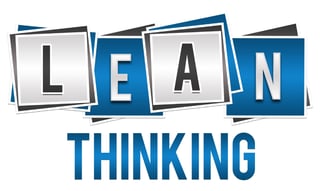 Nowadays, if you are a successful manufacturing company, your operations have to be lean. Where in the past, firms might have been able to survive with wasteful supply chains, poor customer service and mediocre products, the modern marketplace simply won't allow such companies to survive. However, what is lean manufacturing, and how can your company implement the ideas behind it?
Slim down to survive in the modern economy
Let's start with a basic understanding of what leanness means in a manufacturing context. Generally, when you think lean, you think about slender toned bodies or cuts of meat without the fat. That's an accurate way of looking at businesses as well. What we think of as a "lean" business is one where there is no waste at any stage in the production process.

Production inputs are managed precisely so that firms avoid over or under-ordering. Orders are matched to production facilities so that plant operates at one hundred percent efficiency. Customer service is optimised, meaning that clients are not lost through dissatisfaction.

Under lean production principles, products are also produced to the highest possible standard, retaining customer trust and building up brand reputation. The workforce is as large as it needs to be to ensure a high quality product, and its skills and responsibilities are defined so that there is as little overlap as possible.
It all sounds simple. In fact, implementing lean manufacturing can be a complex proposition. So how can you simplify the change to lean production?

Enterprise Resource Planning (ERP) is one suite of technologies that make it much easier to slim down your operations. Using ERP software, you can calibrate your production processes so that they can rapidly change to meet new market conditions. It can help to ensure compliance with regulations - reducing the cost of compliance in the medium term - and it can help to standardise operations across the whole enterprise.

If you have a good picture of every stage in the production process and how materials flow through your manufacturing operations, you will be in a good position to manage waste levels and add some muscle tone you your balance sheet. When implemented by skillful professionals, ERP software like Winman is the ideal way to achieve this.
Revolutionise your business with ERP
Consider some of the benefits of achieving lean production via an ERP solution.
For any given order, firms need to know how long it should take, what materials are needed and what the final cost should be. ERP software can take all of this into account, helping to manage project costs.

Without the information flows that ERP provides, firms will struggle to implement lean manufacturing principles. If you don't know your initial weight, you will never know whether your exercise regime is working. The same applies to business.

Armed with this information, firms can start to build a culture of leanness across their entire enterprise. All employees can become conscious of waste and efficiency, with the right metrics to guide them in their work.

Before long, any given business can be operating at efficiency levels that had previously only been dreamed of. Learning this takes a little time, but the key is implementing the right strategies and bringing in the right technology. ERP is one crucial tool that lean manufacturers need to have at their disposal in the struggle to survive.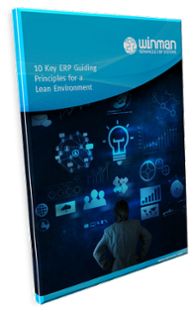 Download Guiding Princples for Lean Enviroment
click on the image