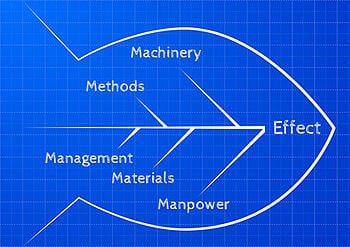 Lean manufacturing is a management technique which seeks to use the smallest possible amount of resources for the biggest gain.
It entails making production processes as efficient as they can be, reducing waste and improving customer service. By adopting software to implement lean manufacturing techniques, firms across the world have demonstrated that huge savings can be realised.
Lean manufacturing doesn't come leaner than Jaguar
One of the most famous instances in which lean production has been implemented successfully was at the luxury car manufacturer Jaguar.
Jaguar was faced with a need to compete globally, while retaining quality control and driving down costs. By creating a lean production strategy with consultants, the firm streamlined its production processes.
Workshops with large quantities of parts lying around where reshaped so that components were delivered "just in time", making manufacturing Jaguar's cars far more efficient. Instead of having parts on hand for when they were required, workers can now call for additional spares when they are needed.
Management also plays a visible role on the shopfloor, ensuring that employees know exactly how to implement the lean manufacturing strategy.
The firm also introduced Customer Relationship Management (CRM) software to ensure that their processes were backed by software dedicated to implementing lean production ideas. This assisted with changing to ordering just in time, smoothing relationships with suppliers and cutting costs.
Retail benefits of lean manufacturing
While Aldi sought to reduce waste and implement just in time techniques, its leadership realised that the product delivered to customers could not suffer. So the firm adopted a system of "continuous improvement", improved the skills of its workforce and gave workers more responsibility at the same time. The retailer also tried to eliminate inefficiencies - by sourcing food locally for example.
All of this was spearheaded by rigorous Enterprise Resource Planning (ERP) - which allowed Aldi to organize every aspect of its lean production program.
Keeping customers happy with lean manufacturing
But some firms have found that just implementing a lean ERP is not enough. Automotive engineers Magal, for example, found that firms they had acquired already had ERP functionality, but that this was inefficient and too complex.
Magal sought the assistance of WinMan in implementing a business-wide, streamlined ERP system which ensured accuracy, particularly in measuring stock levels. This meant that they could be confident that orders would be delivered, and customers would be satisfied.
Boosting profits and the environment with lean manufacturing
Other firms have found that adopting lean manufacturing techniques have allowed them to improve their environmental record as well as their customer satisfaction and profits.
The kind of lean production techniques used by these firms are often dependent upon using software which is easy to use, simple and effective. Winman's ERP products are specifically created to ensure that moving to lean manufacturing is quick and safe, so that efficiency gains can be realised without putting customer satisfaction at risk.