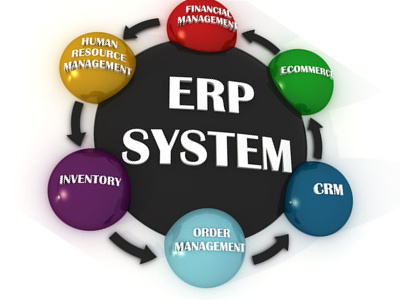 If you're still running your small to medium manufacturing and distribution company without the superior benefits of Enterprise Resource Planning (ERP) software then it's time to move into a more efficient business plan for your enterprise.
Companies looking for ERP solutions are more aware than ever before that warehouse management software with integrated ERP software can significantly improve the daily management of your small to medium business and lead to increased profits, less inventory overload and greater customer satisfaction.
What is ERP Software?
ERP software solutions are management and distribution systems used to integrate all departments and functions utilised by a manufacturing concern. Connecting warehouse, financial functions and people in human resources, may sound like an impossible task, but this is just what ERP software aims to achieve for small to medium businesses.
ERP software combines the digital management of each of these departments into a single, integrated program which runs off a main database. This single database means that all departments can share information with each other easily and quickly.This means that at any point along the supply chain information about, for example an order, can be viewed by any department at any time.
ERP solutions are not just for larger enterprises. Modern ERP software solutions have taken into account the special needs of small and medium manufacturing and distribution firms, and create tailor made, targeted software solutions for these businesses.
These innovative systems accurately pinpoint the select requirements that are unique to manufacturing concerns. Enhancing the success of your business is the primary aim of all businesses, whether they are small, medium or large.
Whether your business is established or a new, growing business, you can reap substantial rewards from installing and implementing Warehouse Management Software with an ERP component. Every business defines success differently, but the bare bones of management remain the same and this is where companies looking for ERP solutions are able to remain competitive in the markets, where so many others fail.

Why Do You Need ERP Solutions?
Growth is an area which is important for all businesses. No matter your degree of success, you will likely be committed to business expansion at some time in the future and this is where companies looking for ERP solutions can truly make or break their future business success. ERP solutions can be implemented whether you require an increase in productivity or a far-reaching expansion into other countries.
How Does ERP Software Work to Improve my Business?
Better decision making - Data collection is one thing, but if you're not using it effectively you could be missing out on important patterns within your organisation. Consolidating data from multiple systems enables improved inventory forecasting or business intelligence.
Better productivity - Top of the heap for most business owners, increased productivity increases profits and creates better customer satisfaction and a larger client base. As your business grows, so, too, do your software systems need to expand.
Integrated business processes - All departments in your business will now be linked together, enabling communication between them and the ability for each department to view the functions and status of the others at any point along the supply chain. This continual flow of information creates transparency within the manufacturing process and hands-on management of any delays or issues which may arise with inventory or products.
Central database - One central data base makes it possible to view and understand the way in which departments are impacting on each other. Each department is able to share and view data during the production process and management decisions can be made quickly and easily based on this information.
Contact us now for a demo and find out what an ERP system can do for your business.