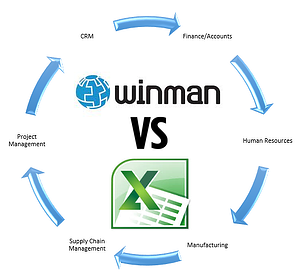 Although Excel is an established and powerful piece of software, it is not ideal to use for the running of a manufacturing business.
The main reason that this doesn't work is that the information is held across many places and formats and it is therefore virtually impossible to get meaningful and timely business critical information to aid in making prudent and highly informed commercial decisions.
Many companies find themselves in the situation where they have an accounting system with very limited functionality in other parts of their business; a contact management system and several other spreadsheets and access databases as well as many time consuming manual processes.
A single database, fully integrated ERP system solves this most common of issues.
Excel also makes it difficult to track the complex processes involved in the effective running a business in real time. Most modern ERP systems support workflow which, over and above their standard functionality, allows system actions to be triggered (such as emailing a report or notifying a supplier) based on events within the system.
ERP software has been developed to enable a business to run far more efficiently. ERP stands for Enterprise Resource Planning and it is designed to fulfil the needs of the entire enterprise by pulling all information and processes together in one place so it's visible, where appropriate, to the entire organisation.
This empowers staff and management alike.
ERP software is a very powerful alternative to Excel spreadsheets that is capable of automating highly complex processes that will give businesses the edge.
What is manufacturing ERP software?
ERP is an acronym for Enterprise Resource Planning, it is a type of business software that will integrate and run all of the complex processes involved in running a business effectively. This includes tracing of raw materials, inventory management and optimization, production planning and scheduling, financial controls and the management of customer relations.
Manufacturing ERP software allows businesses to identify wastefulness, remove inefficiencies, improve customer relations and facilitate real-time collaboration.
How can manufacturing ERP software help my business?
ERP software enables businesses to have a much better insight and visibility regarding their supply chain operations. Accessing this information enables businesses to make successful business decisions and keep up with the competition.
ERP software provides complete visibility into operations, which makes problems easier to identify so employees can make more informed decisions.
Thanks to the real-time integration between finance, distribution and manufacturing, data is always up to the minute.
ERP software can also help businesses become more efficient with improved productivity by eliminating the need for the duplication of tasks and manual entry. It is also able to automate the very complex processes that exist in the running of a successful business.
Unlike Excel manufacturing ERP software can also seriously reduce the likelihood of human error while inputting data.
Many business report immediate results as soon as they migrate from Excel to ERP software. They find it much easier to track each and every aspect of the business in one user-friendly application.
They have also found that accounting and finance is particularly more reliable and accurate, not to mention far less time consuming, which actually saves the business money in the long run.
Another major benefit of ERP software is that it allows businesses to maintain close ties to the industry in which they serve. This enables them to quickly respond to their customers needs as they arise. Also, ERP software is able to grow along with a business in order to respond to future needs.
Most manufacturing ERP applications are also available for mobile devices, such as tablet PCs. This way an employer can access vital and up to date information at any time and will inform the employee of any important updates regarding any aspect of business operations.
The businesses that utilise ERP applications are also provided with support from the software manufacturer, and is regularly updated to add new features and improve performance.
So If you are running a manufacturing business and are still using Excel spreadsheets to input data and performing complex processes manually, why not take a look at manufacturing ERP software and see just how it can improve business operations, save time and money and ensure that your business stays ahead of the competition? There are many excellent manufacturing ERP software packages available from a variety of companies that make complex processes automatic and easy to monitor.
Why not carry out some research into ERP software online and find the best package for you and your business.
Many manufacturing businesses remain completely unaware of the power of manufacturing ERP software and the benefits it offers. They continue to manually input complex processes into Excel spreadsheets and other similar or even less efficient methods, which is not only highly inefficient and expensive but puts the business at risk of lagging behind the competition and is extremely fallible to human error, especially where data input is duplicated in several places.