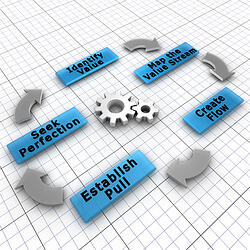 While every company aims at making profits, there are great disparities when their financial reports are published. Mostly, companies record minor growth in profit. However, those that apply Lean Manufacturing are likely to make higher profits than the rest. With a history of over four decades, this management philosophy has helped companies to maximise on output while minimising or eliminating unnecessary expenses (commonly known as waste). Obviously, the benefits of lean manufacturing are many. In fact, lean manufacturing case studies have shown that the philosophy is executable and bears admirable results.
Prior to looking into the benefits of lean manufacturing, it is necessary to understand some basics about the philosophy. For instance, there are three strategies used here to identify the said wastes. Actually, the entire process is to eliminate waste, improve company's production and ensure their smooth running. First, one identifies the wastes followed by careful analysis, which leads to understanding the main causes of such. The last strategy, according to most lean manufacturing cases studies, is finding solutions to the identified causes. It is important however to note that the process is repeated until wanted results are achieved.
Types of wastes and their solutions
To fully appreciate the benefits of lean manufacturing, there is need to know the types of wastes in a company and how to solve them. Most researches and lean manufacturing case studies identify eight main types of problems/wastes in a company. First, there is Waiting which leads to time wastage in the company. Secondly, Defects in a firm may need inspection and thus increasing the cost of running the company. On the other hand, Unnecessary Processes i.e. any activity not adding value to the company and Overproduction are among the wastes which need to be taken care of. The other wastes include Inventory, Transportation, Under Utilised Employees and Motion.
The way one handles the above named wastes determines the benefits of lean manufacturing philosophy. In essence, there are different tools or methods that can be used to lessen the wastes. Most surveys and lean manufacturing case studies show Just in Time as the most popular method of reducing waste in a company. The method works by minimising on expenditures, i.e. ensuring that the firm only orders what it needs at a given time. Similarly, Just In Time plan promotes controlled production of goods/services as per the needs of the market. The other techniques to handle wastes include the 5S Philosophy, Zero Defects, Single Minute Exchange of Die (SMED) and Kanban.
Benefits of Lean Manufacturing
The benefits of lean manufacturing can be discussed at different levels. For instance, one may look at what the company gains or what it means to the customers. Alternatively, as in most lean manufacturing case studies, one can focus on the financial importance of the philosophy. There are various benefits achieved from most of these categories. First, industries will have less waste which means low expenditure and investment. On the other hand, the reduction of waste will ensure improved product quality not to mention how profitable the optimised production can be to a firm.
On the other hand, the customers have a share of the benefits of lean manufacturing. For instance, the philosophy leads to improved customer care services and efficient supply of good and services to clients. This ensures that there is no vacuum in supply thus maintaining equilibrium between supply and demand. Moreover, if lean manufacturing case studies are anything to go by, the customers are always satisfied due to an improved delivery of quality good. As long as the customers are happy, there will always be good sales and big profit margins.
As mentioned earlier, some benefits resonate well with the employees of a firm as opposed to the employer. For instance, lean manufacturing case studies have shown fully involved and motivated employees due to the safe working environment that the method avails to them. The benefits of lean manufacturing also include improved Lead Time and better management. In conclusion, a company benefits from less space requirement and reduced manpower. Most of these can be traced back from lean manufacturing case studies.