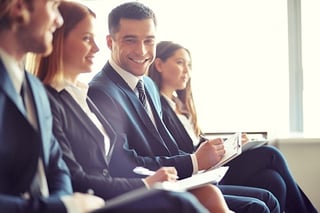 Since the Industrial Revolution, the manufacturing industry has been one of the core sectors which has supported the UK economy, but as with all industries, it is subject to the effects of change in the economic, political and cultural landscapes.
One of the biggest challenges facing recruiters in the manufacturing industry might be its public perception - a sector where people believe little innovation or change is seen compared to other faster-moving spheres. Although this is not necessarily the case, manufacturing is a traditional sector and therefore it can suffer from this stereotype.
Potential obstacles
There is also an issue which will be familiar to human resources and recruitment teams - a skills gap and difficulties in finding the right people at the right time. However, this is driving positive initiatives in manufacturing, which include training and apprenticeship schemes which go further than they used to in terms of attracting employees with potential and equipping them with the right skills to do the job. Not only is this valuable in the personal development of the individuals themselves, it is also a good idea to help increase retention, as employees that enjoy more learning on the job might be more inclined to stay put at an organisation.
Millennials
Millennials are seen as a generation naturally dissuaded from seeking to progress in a traditional sector such as manufacturing - but does this really need to be the case? One thing millennials are more than familiar with is technology and how best to use it. They were near enough born holding a smartphone and this places them well to fill the technological skills gap in the manufacturing industry. The introduction of intuitive business system and manufacturing software such as Enterprise Resource Planning (ERP) systems can help improve productivity, modernise processes, increase innovation within the business.
Time to invest in the next generation
Taking the step to invest in such software isn't only a wise move in terms of business improvement in the operational efficiency of your company a lot of the time - but it can also be a way of attracting the next generation of talent that may prove elusive to some manufacturers. Software such as WinMan ERP is revolutionising businesses in terms of refining their business practices and improving results, and the key to fine tuning these systems could lie in the younger pool of talent that are already accustomed to using technology in their everyday life. Ultimately, the business improvements listed can all contribute to attracting talent and retaining it, and there is never a wrong time to make improvements to the way our businesses work.
Where does the future take us?
What we are seeing in manufacturing is a change in the traditional skill set that recruiters are looking for. Embracing technological change and the benefits it brings can pay dividends not only in the short term, but in the long run for organisations that are seeking to ensure that their workforce does not become stale, and ERP systems are right at the forefront.