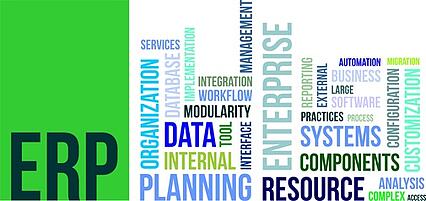 Enterprise Resource Planning (ERP) is something that most large companies are very familiar with. For most people in a large business, it is the backbone that runs the business.
ERP is a scalable and significant improvement over the way businesses were run in the early days of IT.
In the past, different departments had to have specially tailored programmes to support each of them, which led to a lot of time consuming implementation. ERP on the other hand can be integrated across departments and can be scaled to suit the business.
Despite the multiple benefits that ERP offers, many top company leaders are still apprehensive about implementing ERP. Indeed there are some undeniable reasons why ERP is not easily accepted by businesses.
ERP projects can be expensive
Implementing and maintaining large scale ERP systems can need million and even a multi-million pound investment. A typical company could spend hundreds of thousands of pounds every year on average to maintain, change and update its ERP system. The massive initial outlays can be a deterrent for many companies. Then come the continuing cost of modifying the system as the business changes every year and you need to add on more features than you thought you needed.
The trick to avoiding spiraling costs is to implement as basic a system as you can get away with in the beginning, based on your budget. Ignore the temptation of seeking flexibility and customisation at the get go, as these can quickly bring up costs. When you have worked out and put in place a basic system, you can think about the bells and whistles.
ERP is complex
It is true that modern ERP systems can be overwhelming in their sheer size and complexity. Many times management rejects ERP altogether claiming it is too complex for the organisation's unique environment.
However, complexity can be tackled by starting out with basic software, rather than full-featured corporate software right at the outset. Medium and small businesses also have Tier II and Tier III software designed to fit organisations other than big corporate houses.
ERP systems can sometimes fail
Despite the critical role that ERP systems can play in basic accounting, sales to cash, compliance, reporting, HR etc, most companies fail when it comes to implementation. After struggling with ERP for a while, many businesses come to the conclusion that it was a bad investment decision.
Yet the reasons for failure are not rooted in the nature of ERP, but in the way it is implemented and maintained. With ERP software, companies often fail to follow the discipline that they follow in other areas of their business. Essential steps are sometimes missed, such as benefit analysis and risk assessment, cash flow and performance goals. ERP cannot transform an organisation into an exemplar of efficiency without adherence to best practices.
ERP upgrades. Period.
For many managers, ERP upgrades mean additional expenses and time consumption. This can be true if you do not plan upgrades, do not follow the upgrade path that your supplier recommends or set unrealistic expectations.
With scope focus, ERP planning, following your suppliers' upgrade path and allowing a reasonable time after upgrades to reap benefits, it is possible to make ERP upgrades less of a pain in the neck.
While ERP can be difficult to implement, it still continues to be the backbone of organisations that choose to implement it, suggesting that with planning, reasonable expectations and training, it can become the central nervous system of an organisation.