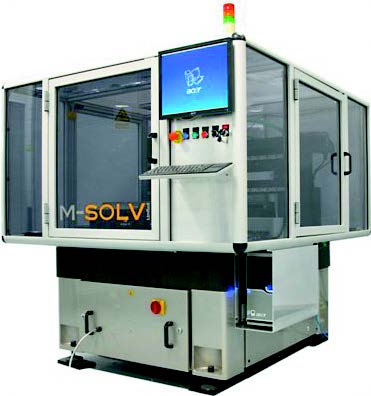 M-Solv Ltd of Kidlington, Oxford, forms the Technology Development Division of the privately owned Chung Nam Innovations Ltd, an international consumer electronics manufacturing group of 10,000 employees headquartered in Hong Kong and with manufacturing partners across Europe and Asia.
M-Solv engineers design and build individual production machines for laser micromachining and inkjet printing with insulating or conductive inks: in some cases laser and inkjet operations are even combined into one, space-saving, hybrid machine. Applications range from touch-screens for handheld consumer devices to thin-film photovoltaic solar cells to high-density interconnection (HDI) circuit boards.
One of M-Solv's core technologies is dry laser etching. Dry laser etching replaces multistep lithography and wet chemical etching for patterning materials to make devices and circuits. Not only is dry etching more capable than wet etching for creating the geometries down to microns needed for smaller and smaller PCBs of higher density, but it is also more environmentally friendly.
As designers and integrators of production machines, M-Solv controls machine and software design in-house and puts together the critical assemblies such as their proprietary laser machining and inkjet deposition systems.
But everything else – for example the polished granite bed, multi-axis motion controllers, fabricated enclosure and other standard mechanical and electrical work for their machines – is outsourced to trusted engineering partner suppliers in Asia.
A sophisticated production machine costs upwards of £500,000, every model incorporating many hundreds of components and sub-assemblies.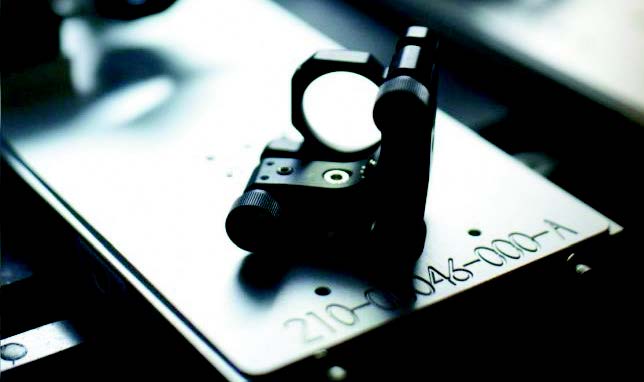 WinMan ERP software was the preferred choice, based upon its functionality, ease of configuration and tailoring, user-friendliness and local support.
Accordingly, proper management and co-ordination of subcontractors' estimates, orders, prices, timescales and delivery schedules were essential requirements when M-Solv was looking into possible, fully integrated ERP systems for the company's operations. With a predefined budget for licences and implementation, they evaluated and compared several contemporary software solutions. WinMan ERP software was the preferred choice, based upon its functionality, ease of configuration and tailoring, user-friendliness and local support.
The WinMan system went live at M-Solv on October 1st 2009. The activities of the system are all encompassing and are driven by the Engineer-to-Order (ETO) capabilities of WinMan:
Jobs/Project
Management including an Electronic Requisition System
Purchase Orders and Invoices
Sales Orders and Invoices
Goods Receiving
Stores
Financials
Manufacturing Orders
MRP for buying-in needs
Time Sheets/Estimates
Links to M-Solv's Parts Information Database
Time Sheet Database.
Becky Fox (Finance and Administration Manager) of M-Solv Ltd, points to some of the features and benefits of the WinMan system at her company.
"You don't need specialised IT personnel to run WinMan. It is user-friendly and easy-to configure: with a graphical interface, it is convenient for users to tailor their user preferences."
Engineering to Order
A particular advantage of WinMan ERP software for research-based, project-driven work embodying unknowns – such as at M-Solv – is that it handles costing 'from the bottom up', namely starting with the building blocks of materials, components and labour costs prior to design work being undertaken. 'Engineering to order', or ETO, comes with its own challenges and can mean that we may never manufacture a given production machine again.
The WinMan ERP system has allowed us to move from Excel spread sheets for managing business functions such as project requisitions and stores by automating the process within the software, which gives all users of the system full visibility of the status of components for their projects.
Project Work Breakdown Structure
For us, the Project Work Breakdown Structure is right at the heart of WinMan. Each project breaks down into successive sub-elements with defined nodes or 'bins' for the estimated costs fed into the system as Excel files – typically for components, materials, scrap, labour, research and development, internal costs and non-recurring expenses like shipping and hotel and travel costs for company personnel.
Labour costs for our projects are particularly complex, needing to be divided into everything from project management, optical, mechanical and electrical design and build – through to software design, commissioning, quality assurance and certification. Labour time may be estimated for individual items of software and hardware. Likewise, the cost of assemblies can be broken down into sub-assemblies or individual components.
Not dissimilar to the work of a quantity surveyor, an estimate can go down to several levels.
Eventually the refined final estimate becomes a firm job or firm contract based upon the populated 'bins', which allow us a realistic and transparent view of our costings. Our Project Manager relates the estimated costs to actual bought-in costs and approves the individual materials requisitions advised by the WinMan system. WinMan tells us exactly what we need to buy and enables us to raise all necessary purchase orders.
Crucially WinMan ERP software facilitates our project management with many custom components involved, the major factor in enabling us to meet our delivery and cost targets and ultimately satisfy our customers.
WinMan will tell us about any overruns in delivery at the earliest possible stage. For progress chasing, the system flags up the items still outstanding and dates still to be met, because the delivery of any project can only be at the speed of its slowest element.
To assist this mechanism, we can define sub-project tasks (or 'milestones') at appropriate points in our WinMan system – they may consist for instance of subcontract services such as prototyping, or internal jobs like machine or software design.
With project accounting over long projects, this gives us the practical and financially sensible option of staged invoicing. In fact, work-in-progress such as internal and subcontract timesheets, bought-in components and external testing services are collected and booked into WinMan against a job in real time as we go along.
The Final Analysis
In the final analysis, WinMan ERP software has changed the culture of our company. As a proud, world leader from the UK in the fast-moving and increasingly complex world of microelectronics production technology, we now have in WinMan a modern, flexible and responsive ERP system befitting our company's aspirations and providing a strong foundation for our future growth in business.