Learn how the team at WinMan ERP has been getting digital! As we've been working almost exclusively in a remote capacity since March 2020, both our internal and external approaches to communication have evolved. One observation that is also evident to us, is that the manufacturing, process and distribution industries that we serve have continued, or adapted, operations and taken a significant step closer to the digital world too.
The adoption of digital devices, processes and places, under the title of Industry 4.0, has accelerated in the midst of the pandemic, but the question whether the manufacturing industry is still sitting behind the curve still remains a hot topic.
Many processes and practices that are currently manual operations can be digitalised, and ERP solutions give you the opportunity to not only review your existing process flows but give you the vehicle you might need to implement and embed innovative technologies to enhance your businesses for years to come.
As a digital business management solutions provider, and with our teams more remote than ever we're putting our spin on the 'Digital Twin,' which typically across the manufacturing industry refers to virtual versions or simulations of the key equipment and industrial machinery that is used to enable the successes of UK manufacturing.
Digital Twins offer you the opportunity to add so much value, from running tests that don't impact capacity and machine learning, to collecting real-time data, tracking, tracing, forecasting, and more. As well as contributing to reduced emissions by replacing real life testing with virtual simulations or shifting to eco-friendly approaches with tighter controls on materials and waste, helping you on your way to achieving NetZero.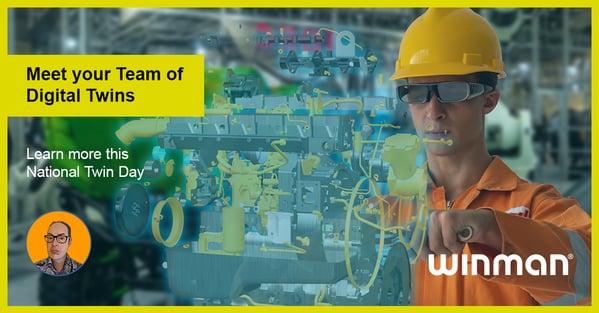 With the industry needing a variety of platforms to suit a breadth of requirements, catering to a range of business sizes. The WinMan solution offers everything from the on-premise ERP, which we know is best suited to those needing tighter control over their data, to hosted and cloud-based ERP solutions which offer greater levels of flexibility and eliminate the need for complex servers or networked hardware.
WinMan ERP also allows you to bolt-on in-house developed apps via WinMan Go, as well as integrating and configuring workflow automations across the system, so it wraps around your operations in the best way possible. Our Go apps are the enabling force behind shop floor data capture through smart tablets and mobile devices, giving you the solutions you need to speed up data entry, plus monitoring both quality and effort levels to facilitate detailed requirements planning.


So to mark National Twin Day, this Saturday 18th December 2021, the team of Digital Twins at WinMan have been launched to establish our efforts to bring the ERP services we offer to life. We're relying more and more on Microsoft Teams, Zoom and social media to connect with our users. For this reason, our Digital Twins give you the chance, initially, to put faces to the names of our valuable team, who build the foundation of what we do, and who you also often encounter when speaking to our support, implementations and operations teams.

Keep your eyes peeled, as the team have been updating their profile imagery to reveal their Digital Twins throughout this week!

And don't forget to get in touch with us to share your stories on how you too have been getting digital, or to let us know which of the Digital Twin teams you're most interested in learning more about by emailing me at marketing@winman.com