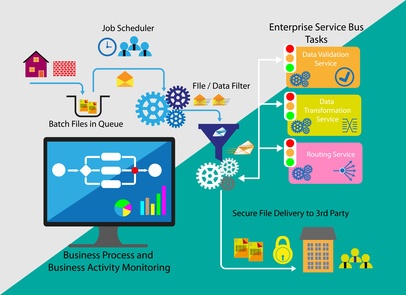 Batch processing is all about precision, organisation and efficiency – and manufacturers should always seek to enhance all three aspects of their business.
To achieve this takes knowledge and planning. Batch processing relies on delivering high quality products 'just in time', instead of running a continuous production line. This makes it vital to cut back on waste and ensure that each batch is produced as efficiently as possible.
Installing a cutting edge ERP package is an effective way to minimise waste and drive up efficiency for any batch process manufacturer.
ERP for batch process manufacturing: the basics
ERP stands for Enterprise Resource Planning. As the name suggests, it provides a wide range of different applications which, when added together, allow managers to control and monitor almost every aspect of their operations.
It aims to provide the tools that manufacturers need to achieve the leanest possible organisation. It generally includes a wide range of tools, stretching from financial to customer relationship and warehouse management.
With the right installation in place, ERP can deliver huge efficiency gains across all of these areas, and it is particularly effective in batch process manufacturing firms.
The challenges of batch process manufacturing
Batch manufacturing is essential in some industries, where firms need to cater for the individual and sporadic demands of clients and products are manufactured to order.
It tends to be harder to ensure that the plant, resources and employees are being optimised at 100 percent efficiency, and avoiding costly downtime becomes a priority.
Batch process managers need to be completely flexible when allocating resources, as control information can be stored at the closest level to the factory floor. Managers have to delegate and feed responsibility downwards to shop floor staff, while maintaining overall control via real-time data and communication tools.
Their processes and systems also have to suit a 'just in time' production schedule, placing pressure on every department to deliver on demanding time scales.
Why batch process manufacturers should choose ERP
ERP offers many potential benefits to firms involved in batch process manufacturing, who often operate on tight margins and to demanding time-scales.
Firms can link together all aspects of the manufacturing process, from procurement of materials to processing, marketing and customer management. Managers can keep track of quality control. They can run 'what if' scenarios to check that everything is working properly, and they can set up intelligent picking systems as well.
With the right ERP configuration, manufacturers can mobilise their available resources much more effectively. By modelling manufacturing processes and allocating resources efficiently, ERP software can shave significant amounts of the cost of production.
ERP is designed to cover every aspect of an organisation. The overall aim is to create a 'lean' operation that is operating at maximum efficiency. This means that it can knit together each part of the production chain, from the sourcing of raw materials to delivering orders on time and securing fresh orders from existing clients.
Plan your way to success with ERP
Planning is crucial in the success of any manufacturing enterprise, and now ordinary firms have access to the latest technology to place their operations on a firm footing. Manufacturing is a race between competing producers to deliver high quality products, cost-effectively and reliably, and the ERP solutions offered by WinMan can assist in all of these areas.
So the answer is yes - installing an ERP solution will deliver massive benefits to your batch process manufacturing company, and it makes sense to investigate ERP's benefits as soon as possible.