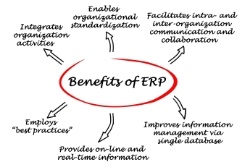 The benefits of implementing ERP software could be huge. All manufacturing enterprises need to plan ahead so that they are able to fulfil orders from clients and deal with changing market conditions. ERP provides a suite of tools that make every aspect of this planning far easier.
Slim down manufacturing and achieve total control with ERP software
On the manufacturing and processing side, the advantages of implementing ERP include:
Slimming down every process within a firm along lean manufacturing principles, so that every employee is working at 100 percent efficiency, and waste is minimised at all points in the production chain.
Integrated Warehouse Management allows firms to know precisely where every component is located and how their stock levels are holding up. When clients make a specific order, manufacturers will be able to see at a glance whether they can fulfil it using existing inventory, or whether they need to make alterations to their warehouse levels.
By using advanced technology like RF handheld units and serial number tracking, firms can trace every finished product or component as it passes through their factories and stores. Picking can also be fully customised to allow for efficient order delivery, further saving on labour costs.
Product Configurator software allows manufacturers to provide a fully-individual service for each customer. Products can be configured to the exact specifications of each client, while making order processing as efficient as possible.
Helping enterprises to achieve a marketing revolution
ERP software also has huge benefits in terms of branding and managing interactions with customers. No firms can survive for long without cultivating strong, durable relationships with repeat purchasers, so this aspect of ERP is absolutely crucial.
By using Customer Relationship Management packages, firms can configure streamlined, personalised processes to cater for every single customer. Alerts and updates can be set up in order to encourage fresh orders and maintain strong links between manufacturers and clients.
Marketing effectivity is increased using ERP. Recording the source of leads allows companies to see where marketing spend has been most effective and enable the budget to be focussed on campaigns that bring in revenue this also helps employees to monitor their effectiveness on a sale-by-sale basis.
Using ERP packages like WinMan, this marketing information can then be seamlessly linked with methods such as telemarketing or email. Every telephone call can be logged and analysed. Alarms can be set up, so that no deadlines are missed and no customers are neglected.
The sales force will also be empowered by automated, remotely accessible databases. When they are on the road, sales staff can access information about past interactions with potential clients and managers can have full knowledge of how sales representatives are performing.
With this kind of service, lead generation and conversion will quickly become much more efficient, raising sales and, eventually, profits.
Analysing performance and achieving success
The marketing and manufacturing sides of ERP software also feed into analysis. ERP generates a huge amount of data that software like WinMan can process into easy to use information. The idea is that this information can guide future business decisions, allowing firms to plan their way to sustainable growth.
Using tools like real-time sales reporting, integrated e-commerce and CRM tools that deliver full information about high-value customers, firms can see in real-time how they are performing and identify areas to improve. Inefficiencies and wasteful practices become easy to identify and correct. All of this drives up profits and makes individual businesses more effective, tightly organised units.