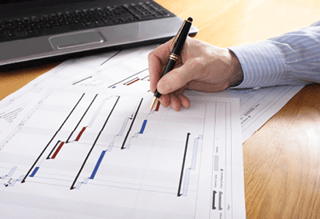 Project accounting creates milestones for payments, with a schedule focused on key points within the project timeline - it is accounting on a project-on-project basis. For manufacturers it combines both accounts and production considerations into one control system which can be imperative to maintaining an efficient operation and healthy cash flow.
Choosing the right project accounting software
Project accounting software should help you monitor all details of the job including estimates, timesheets, purchase orders, resources used, billing and change orders. It will tighten up current project management capabilities, prevent overruns, help meet client expectations and even generate bottom-line savings. Identifying the right project accounting product can help you enhance your operational powers significantly, pull together both financial and non-financial data and incorporate and track them in one place.
What are the benefits for manufacturers?
Project accounting solutions are particularly suited to manufacturers. The large number of materials - and their sourcing, purchasing and application - involved in the manufacturing process makes effective project accounting especially relevant where organisation is concerned by tightening up budgets and making businesses more time efficient. By increasing efficiency it can ultimately translate into profits.
Make your production leaner
Leaner production can be facilitated by the best project accounting solutions, of which Enterprise Resource Planning (ERP) software, is one of the leading product types. With the added logistical benefits that they provide, expenditure can be refined to a much higher degree than was previously possible through getting the fundamentals of organisation right. It's about taking every element of the production process into account in order to build a clear picture of how efficient your business is.
The team is what counts
What project accounting often boils down to in terms of its greatest advantage is how it could help continuous improvements to team management. Projects are carried out by people, and intelligent project accounting helps simplify and divide projects into a number of milestones, allowing managers to allocate them accordingly. After project completion all processes, team skillsets and productivity can be reviewed and improved for the next project.
WinMan ERP software has an integrated project accounting feature. It is a complete solution that has been designed for the manufacturing and distribution industries. Contact us today to discuss your ERP software and project accounting requirements with our team of experienced professionals.