MRP is Material Requirements Planning and the software is a computer-based means of managing inventory within a production environment. Simply put, MRP software takes a manufacturing schedule and breaks it down to a list of requirements for the components and materials needed.
Applications of MRP
This supports a wide range of functions within a manufacturing environment, such as inventory control, planning, scheduling and purchasing. MRP software analyses what is required, how much and when, and aims to meet manufacturing schedules in a timely manner while reducing costly inventory. This links with the concept of lean production and its efficiency goals of getting more for less.
What is ERP?
ERP stands for Enterprise Resource Planning and ERP software provide companies with integrated functionality such as financial, supply chain, operations, CRM and manufacturing processes within a single system. Individual functions or departments operate their own front end or their own function-specific systems, but the data feeds into the central ERP and makes it available in real-time to all parts of the organisation. This timely access to data means joined up decisions can be made quickly across departments.
How does ERP differ from MRP?
MRP is specific to manufacturing, while ERP works across the organisation. Within this wider remit, MRP can be one part of ERP software for manufacturing, every ERP component is integrated and communicating with other core business processes.
The benefits
For manufacturers, the benefits of ERP and MRP are many. There are the immediate gains of wider availability to information across functions and departments and the resulting improved decision making. Shared knowledge is held by the organisation and not by individuals or departments, freeing its value. By connecting and integrating, duplication of effort and technologies can be removed, saving money and improving efficiency.
New working practices
Integration and automation open up possibilities for new ways of working and integrated workflows can help manufacturers achieve lean production techniques. It supports the concept of Kanban, developed in the 40s by Toyota to match inventory with demand. This reduces inventory, lowers waste and obsolescence, improves the allocation of labour and increases production efficiency through better scheduling of equipment and resources.

Another benefit is that ERP software can break down borders – both geographical for multi-site and global operations, and organisational for integrating with third parties such as component suppliers or customers.
Case examples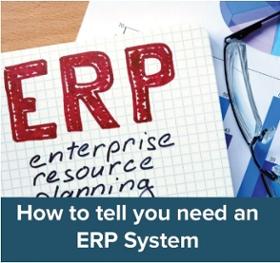 An example is LG Electronics, which had 114 subsidiaries and over 82,000 employees across 40 countries when it implemented an ERP system. It was a challenging implementation that took five years, yet led to central management of a single system with minimal maintenance costs, transparency of processes, real time reporting and tracking, informed decision making, centralised control over costs, efficiency improvements, easier sharing of best practices and increased employee morale, productivity and engagement.

Nestlé is another company that benefited from ERP, with Nestlé UK estimated to have recouped the money spent on the system in just two years and to have benefited from reduced inventory levels, a more disciplined approach to business processes and a culture of continuous improvement.

To find out more about MRP or ERP for your business, contact us today.