I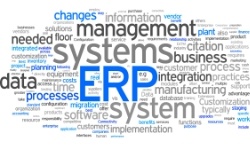 f you were asked for your projected sales figure for a particular region over the next three months, how long would it take you to come up with the answer? How about other key metrics such as inventory levels, delivery dates, and marginal costs?
If you couldn't respond promptly and accurately, it might be time to look at installing an enterprise resource planning (ERP) system. As the name suggests, ERP software enables enterprise-wide information collection, interpretation and analysis, and distribution.
Knowledge Rules
As a small to medium business, you're aware of how competitive the market is right now. You also know that today's businesses runs on information. Accurate data is needed to plan and monitor every business process and that's just what ERP software delivers. The alternative is inefficiency and its dire consequences. If your firm is showing any of the following signs, it could be time to look into ERP now.
Unrealistic Forecasts
Do you find your sales figures and production quotas are consistently wide of the mark? This can lead to problems such as excess inventory, raw materials shortages, missed orders, and unhappy customers. ERP software offers you the ability to create forecasts that are comprehensive, timely, and accurate.
You Struggle to Respond to Queries in a Timely Manner
If a customer calls to check on the status of an order, can you respond immediately and in detail? Or do you have to contact several departments to find out what's going on while the other party waits patiently? ERP allows you and your key staff to keep on top of all that's happening in your organisation.
Expansion Causes Problems
A booming market is welcome but brings its own set of issues. If you don't keep a tight watch on the numbers, you may encounter problems in the form of insufficient inventory and raw materials. The resulting customer dissatisfaction could be devastating. ERP keeps you in control and also opens the door to lean manufacturing and all its associated advantages.
Existing Systems Deliver Disorganised Data
Instead of separate reports from various departments landing on your desk, consider how much more useful it would be to view key information about your whole operation on one screen or on one comprehensive report. This is the promise of ERP, the ability to gain accurate insights into the working of your entire business in real time.
Your Systems Don't Talk to Each Other
If you've been in business for a while, you may find each department in your firm has its own software. Accounts uses one system to crunch the numbers, and your warehouse relies on another to keep track of inventory, and so on. Separate systems also means separate upkeep like licensing, support or training. While each system may work well enough on its own, consider the benefits that would result from integrating everything into an enterprise-wide system.
With ERP in place, warehouse, shipping, budgeting and sales software would talk to each other, and to management. When information is shared in this way, it becomes more than the sum of its parts. Plus with all information stored in a common database, access is made easy. As a side benefit, you'll also benefit from lower IT costs that result from a simpler system.
Future Proof Your Firm with ERP
One thing's for sure, the business environment is only going to get tougher with increasingly fierce competition, tighter margins, and ever-more demanding customers. Installing the right enterprise resource planning software is the key method to maximise the value of every department and business process thus gaining the vital edge you need to succeed.
With effective ERP system in place, up-to-the-minute data on inventory, production quotas, orders, salesman performance and other key data is as close as a click of a mouse.